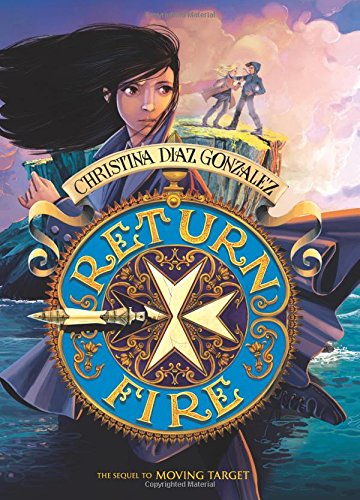 Publisher's Note:
Cassie Arroyo has found the long-lost Spear of Destiny--only to have it stolen right out from under her!

In Return Fire, Cassie and Asher must regain the spear. This time, however, it's not enough just to find it: Cassie realizes that when she used the spear, she set the world down a path that could eventually lead to serious trouble. Can she find a way to stop the terrible chain of events that she set into motion?

As she tries to re-shape her own destiny, Cassie takes off on a breathless adventure across Italy, leading her to a forest outside Rome, a Caravaggio painting full of clues, and a villa by the sea. There, in the ultimate showdown, Cassie has to decide who she can truly trust. And when the chance to use the spear presents itself again, she has to figure out if she can even trust herself.

Kids will be clamoring for this sequel after finishing Moving Target, and this has even more thrills, riddles, and page-turning excitement.
This book was sent to Compass Book Ratings for review by Scholastic Press (A Scholastic Imprint)
Return Fire
by Christina Diaz Gonzalez
Overall Review:
Author Christina Diaz Gonzalez brings the nail biting events of Moving Target to a conclusion with a sequel, Return Fire, providing the reader with another exciting, fast-paced, action-packed adventure/mystery. Cassie and Asher are set on the path to find Cassie's destiny and somehow manage not to get killed or caught along the way. However, who can they trust and where can they run? As they make their way around Italy, they learn to trust one another, an important thing now that their lives seemed to be linked on so many levels. Together, they have the opportunity to change the fate of the world. Apart, they just might find themselves killed.
Moving Target left the reader with a true cliff hanger and lots of loose ends and questions. Happily, Gonzalez ties up those loose ends, answers the questions, and allows the characters to grow and mature, making them a little more likable. Return Fire is just as quick-paced as the first novel, with both covering just a matter of days, time wise, so get ready to hang on to your seat as you get swept up in this rapid-fire mystery. There are puzzles to solve, clues to interpret, bad guys to escape from, and people to learn to trust, all while saving the world. Return Fire is definitely an exciting mystery, that will have you flipping pages, but make sure you read Moving Target first or you won't be able to follow the story line.
Other novels by author: Moving Target and The Red Umbrella
Content Analysis:
Profanity/Language: None
Violence/Gore: Character mentions how a group wants to have them killed (4 times); secondhand account of a group keeping someone in a coma against their will; character has a vision of sorts that shows mass destruction including seeing bodies littering the streets--no details given (4 times); account of someone having been shot and drugged against their will; mention of someone being a killer; characters witness a building they were supposed to be in get bombed; characters chased by man with intention on doing them harm; character causes someone to crash which results in a broken leg; character points knife at another person; character slaps another on the cheek to wake them up; characters stopped by a man pointing a gun at them who then forces them into a room and keeps them against their will by tying them up; character grabs a person by the arm and ties them up; character hurts someone while in a trance; description given of painting of a woman with an arrow through her chest; character is kidnapped and has bag thrown over her head; man holds someone down to the floor with his foot; man points gun at characters; character says he has no qualms about killing someone; character says he has to kill someone and will do it one way or another while pointing a gun at them; character is poisoned; character (adult) poisons himself.
Sex/Nudity: None
Mature Subject Matter:
Neglectful parenting, poisoning.
Alcohol / Drug Use:
Man said to be smoking a cigarette; poisoning.
Reviewed By Sally