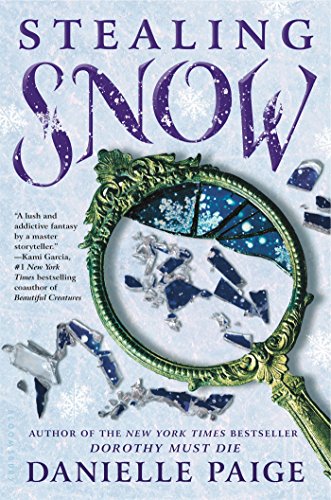 Publisher's Note:
From Danielle Paige, the New York Times bestselling author of Dorothy Must Die, comes a re-imagining of "The Snow Queen" fairy tale.
Seventeen-year-old Snow has spent the majority of her life within the walls of the Whittaker Institute, a high security mental hospital in upstate New York. Deep down, she knows she's not crazy and doesn't belong there. When she meets a mysterious, handsome new orderly and dreams about a strange twisted tree she realizes she must escape and figure out who she really is.
Using her trusting friend Bale as a distraction, Snow breaks free and races into the nearby woods. Suddenly, everything isn't what it seems, the line between reality and fantasy begins to blur, and she finds herself in icy Algid--her true home--with witches, thieves, and a strangely alluring boy named Kai, none of whom she's sure she can trust. As secret after secret is revealed, Snow discovers that she is on the run from a royal lineage she's destined to inherit, a father more powerful and ruthless than she could have imagined, and choices of the heart that could change the fate of everything . . . including Snow's return to the world she once knew.
This breathtaking first volume begins the story of how Snow becomes a villain, a queen, and ultimately a hero.
This book was sent to Compass Book Ratings for review by Bloomsbury Children's Books
Stealing Snow
by Danielle Paige
Overall Review:
Being unfamiliar with Hans Christian Andersen's story, The Snow Queen, I actually originally thought Stealing Snow was a different version of Snow White with only a few references to it here and there and that author, Danielle Paige, had just chosen to go another direction. That said, this is a fantastic story whether new to you or not and it's always fun to be introduced to a new fairytale. Snow is a strong, stubborn, passionate girl who you can't help but hope the best for. At first it bothered me a bit that Snow seems to fall for every guy she spends more than a few minutes with but after thinking about it, you realize that she's been locked up in a mental institution for the majority of her life and in that time had a very strong and loyal relationship so that's what she knows and it's easy for her to fall into that kind of relationship quickly. Not only is Snow an excellent character but many of the other characters in the story are diverse and captivating. Visually, this book reminded me of Alice in Wonderland with its vibrant, peculiar landscapes that are so fascinating to imagine. I'm unsure how many books are planned for this series but there will be at least an additional one and after you finish this one you'll be delighted to read more. Readers who enjoyed Cindy C. Bennett's Rapunzel Untangled and Alicia K. Leppert's Emerald City need to give Stealing Snow a try.
Content Analysis:
Profanity/Language: 18 mild obscenities; 1 derogatory names; 4 scatological words; 2 anatomical terms.
Violence/Gore: Many (42) brief incidents including character has a dream that she will kill another; character (who isn't mentally sound) says others will die; character play-punches another; joking about killing; character threatened to be hurt as form of punishment; character nearly impaled; secondhand report of characters getting badly hurt; murder mentioned on a television show; references to characters dying and getting killed; character in a book kills people; secondhand report of house getting burned down; character accidentally cuts self on mirror; reference to a cannibal in a movie; secondhand report of character biting another; references to a character cutting; secondhand report of grave robbing; characters have faces cut a little bit; character getting poked with sharp weapon and a little blood drawn; character breaks another's wrist; knife cuts a character twice causing non-life threatening wounds; character punches another; character has several dreams of death and attacks and characters getting hurt; several incidents of characters using magical powers to hurt or kill others; kidnapping; reference that characters will die; fighting; character nearly died.
One extended incident (36 pages) of fighting with few gory details given.
Sex/Nudity: Many (30) brief incidents including dancing; hugging; cuddling; kissing; holding hands; characters pressed up against each other; a few incidents of characters changing clothes (non-sexual); two incidents of a shapeshifter being naked after changing; character is naked but covered with leaves for medicinal purposes; character wears low-cut dress; reference to female's bra cup size; reference to a character being a lesbian; reference to possible affair; innuendo; reference to a story of man who sleeps with several women; characters not wearing much at a speakeasy; boy lying on top of girl.
Mature Subject Matter:
Characters (including children) live in a mental institution, parental abandonment of children, grave robbing, stealing, murder.
Alcohol / Drug Use:
Characters drink at a party; drinking with dinner; characters (including children) take medication at a mental institution; orderly threatens to use needle on patient for sedation.
Reviewed By Jenny