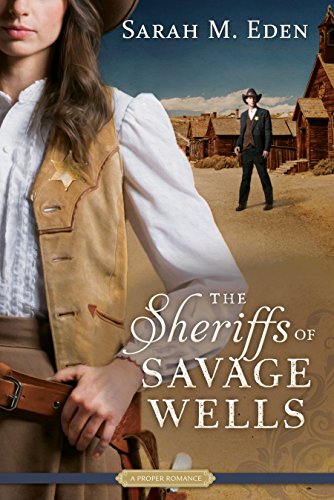 Publisher's Note:
The small town of Savage Wells is barely big enough for the people who call it home; it certainly isn't big enough for more than one sheriff.
Yet when famed lawman Cade O'Brien rides into town, he finds he's not the only man ready to take on the job. What's more, one of his competitors is a woman.
Paisley Bell loves her town and the eccentric people in it. She's been the job to anyone else. Not only does she love the work, but she also needs the income to take care of her ailing father.
It's a true battle of the sexes, and sparks fly between the two as Cade and Paisley banter and boast, neither one ready to acknowledge the attraction they have for each other. But when Paisley's former beau shows up, along with a band of bank robbers, Savage Wells is suddenly faced with the kind of peril that only a sheriff can manage. Who will be man enough—or woman enough—to step up, claim the badge, and save the town?
This book was sent to Compass Book Ratings for review by Shadow Mountain
The Sheriffs of Savage Wells
by Sarah M. Eden
Overall Review:
The Sheriffs of Savage Wells by Sarah M. Eden takes place in Wyoming Territory ten years after the American Civil War. The town represents all that an old west frontier town should. Gun slingers, war veterans and eccentric people combine to make up the town of Savage Wells.
The banter between the two main characters, Paisley and Cade is refreshing and fun. Additionally appealing is the way in which Eden focuses more on advancing her plot and letting the romantic aspects of her story fall in place naturally. So much is going on in the story that readers barely have time to register the romance. This is not a bad thing and the author manages all of her subplots in an orderly and non-confusing way.
The tactic of showing each character's personality traits through his or her actions is quite effective. It feels as though the reader is an observer in all of the scenes. The characters and their stories become personal and engaging. Readers will find plenty of ponder-worthy topics, action, suspense, and yes, romance. Enjoy your visit to the town of Savage Wells.
Review of an Advance Reading Copy
Content Analysis:
Profanity/Language: None
Violence/Gore: Lawman recalls shooting many lawbreakers; character recalls taking lives in war; characters threaten to kill one another in jest; character threatens to wring another's neck; character shoots a man in the arm and bleeds; characters discuss the unpleasantness of taking human life; a three-page gun battle in which people are shot, including a fatality; blood is mentioned in describing wounds.
Sex/Nudity: Non-married characters kiss and embrace many times; a male is without a shirt, no description.
Mature Subject Matter:
War, death of family members, Alzheimer's.
Alcohol / Drug Use:
Character does not support drunkenness.
Reviewed By Susan