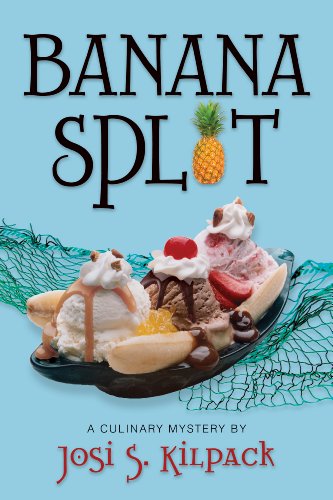 Publisher's Note:
A tropical paradise seems like the ideal place for amateur detective Sadie Hofmiller to relax and unwind from the panic attacks that have begun to control her life. But when Sadie accepts the offer to stay at a friend s condo on the island of K auai, her perfect vacation turns into a nightmare. On a snorkeling trip with the Blue Muumuus, a community group of adventurous older women, Sadie finds herself entangled, quite literally, with the dead body of Noelani Pouha, a local drug addict. The police are convinced they know exactly what happened to Noelani. Reeling from the shock of her own near-drowning, Sadie has no interest in looking for any other possible answers until Noelani s son appears on her doorstep, presenting her with a reason to gather her inner strength, rally her investigative powers, and use what she s learned from her past cases to try and find closure . . . for both of them. Includes ten new mouthwatering recipes, tested and approved by the official bakers of Sadie s Virtual Test Kitchen.
This book was sent to Compass Book Ratings for review by Shadow Mountain
Banana Split
by Josi S. Kilpack
Overall Review:
Meet Sadie Hoffmiller: 57 year old sleuth with a little spunk and a whole lot of refreshing reality. The seventh book in the Culinary Mystery series starts slowly, especially for a reader new to the series. With many references to "what happened in Boston", the first 100 pages were a bit frustrating. However, once Josi Kilpack settles into classic sleuthing mode, the reader is in secure and practiced hands. Kilpack's expertise is manifest especially by her ability incorporate red herrings and then to let those sub-plots fade away after they have served their purpose. Banana Split culminates in an unpredictable, but believable conclusion. This is the perfect throw-in-your-beach-bag read. Take it with you on your next spring break—preferably to someplace tropical. Note: As usual, recipes are included in the book.
Content Analysis:
Profanity/Language: None
Violence/Gore: A character says someone threatened to kill her/him; a character threatens to kill someone; character reports seeing someone attacked; a death is mentioned; report of child abuse; two characters scuffle; a character threatens another character with a gun and a scuffle ensues; shots are fired and a minor injury occurs; an extended confrontation (~ 1 page) occurs between two characters with some hitting and scuffling.
Sex/Nudity: It is reported that a character worked as a dancer in a strip club. There is verbal speculation and accusations regarding the fidelity and possible affairs of a character.
Mature Subject Matter:
Foster care and families; legalization of drugs; drug addiction; fidelity in marriage; PTSD/Anxiety/Depression.
Alcohol / Drug Use:
A character's drug addiction is discussed; a brief discussion on the pros and cons of legalizing marijuana; references to drug dealers.
Reviewed By Cindy