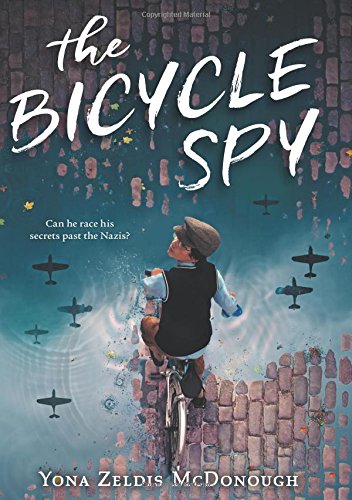 Publisher's Note:
Marcel loves riding his bicycle, whether he's racing through the streets of his small town in France or making bread deliveries for his parents' bakery. He dreams of someday competing in the Tour de France, the greatest bicycle race. But ever since Germany's occupation of France began two years ago, in 1940, the race has been canceled. Now there are soldiers everywhere, interrupting Marcel's rides with checkpoints and questioning.

Then Marcel learns two big secrets, and he realizes there are worse things about the war than a canceled race. When he later discovers that his friend's entire family is in imminent danger, Marcel knows he can help -- but it will involve taking a risky bicycle ride to pass along covert information. And when nothing ends up going according to plan, it's up to him to keep pedaling and think quickly... because his friend, her family, and his own future hang in the balance.
This book was sent to Compass Book Ratings for review by Scholastic Press (A Scholastic Imprint)
The Bicycle Spy
by Yona Zeldis McDonough
Overall Review:
The Bicycle Spy is a well-written historical fiction novel that pulls the reader into the world of the French Resistance Movement during WWII, through the perspective of a 12-year-old-boy. Marcel loves bicycling and dreams of riding in the Tour de France. Unfortunately, World War II has disrupted his life and has come too close to home. How Marcel decides to face and overcome the challenges brought on by war is what The Bicycle Spy is all about. Author Yona Zeldis McDonough does a wonderful job creating a world of secrets and the unknown, but where kindness shines in the darkness that has become the new normal for Marcel and the French village he lives in.
As Marcel learns that all are not who they seem and that he can do his part, he shows courage and bravery in trying to do what is right, which he had to dig deep at times to find. As he develops a new friendship, he quickly learns the true meaning of the word when he's called upon to put his life in danger to help his new friend. As a novel, The Bicycle Spy is a poignant reminder of the difficult, yet courageous, decisions that were made by people in WWII. It is also a sweet reminder of what friendship and dreams mean to those who are in the midst of such a upheaval to normal life as war.
The Bicycle Spy is an excellent novel for readers who love historical fiction and adventure. It would also be a great novel to introduce the tragedy of World War II, without it being too graphic or detailed. It certainly is an age appropriate book that would open the door for discussions and maybe then lead to further exploration of the subject.
Content Analysis:
Profanity/Language: French religious exclamation used once (translation of all French used in the novel is given at the back). Not tallied but worth mentioning: character called "Dirty Jew" to their face.
Violence/Gore: Mention of the possibility of being shot if opposed to the Nazi regime (2 times); report of people being deported against their will told; person mentions reports of Jewish people being rounded up and killed; secondhand account of person being tripped by the class bully; character mentions wanting to punch someone.
Sex/Nudity: None
Mature Subject Matter:
War. racism.
Alcohol / Drug Use:
Account of soldiers smoking cigarettes.
Reviewed By Sally