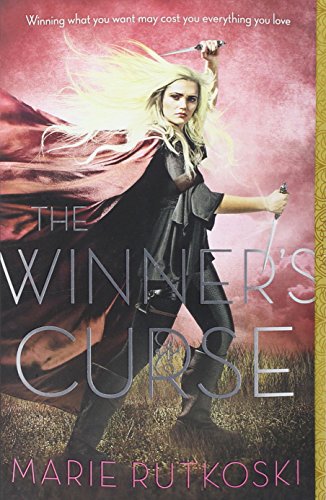 Publisher's Note:
Winning what you want may cost you everything you love
They were never meant to be together. As a general's daughter, seventeen-year-old Kestrel enjoys an extravagant and privileged life. Arin has nothing but the clothes on his back. Then Kestrel makes an impulsive decision that binds Arin to her. Though they try to fight it, they can't help but fall in love. In order to be together, they must betray their people . . . but to be loyal to their country, they must betray each other. Set in a new world, The Winner's Curse is a story of rebellion, duels, ballroom dances, wicked rumors, dirty secrets, and games where everything is at stake, and the gamble is whether you will keep your head or lose your heart.
The Winner's Curse
by Marie Rutkoski
Overall Review:
The Winner's Curse by Marie Rutkoski is a fantastic novel set in a world that takes place ten years after the conquest of a people. In feel, it is similar to the Greco-Roman period, after the Romans have conquered the Greeks and enslaved the people. In this case, the Valorians are the conquerors, and the Herrani are the enslaved Greeks.
The story is told in a split point of view: first from the eyes of a Valorian Lady, and then from the viewpoint of a Herrani slave. Kestrel Trajan is the daughter of the general responsible for the defeat of the Herrani. She is a likable main character in that she is Valorian and lives in the manner of Valorians, but she has a moral center that is uneasy with the treatment of the Herrani. Arin is a slave in the Trajan household, and his rebellion toward the Valorians, while almost cruel at times, is understandable because of his memories in how the Valorians killed his family and enslaved him. Both characters are good foils, portraying the lengths each will go for their people while cultivating a sense of the other's heritage and a respect for it.
This is a fantasy that relies on world building, culture, and political structure rather than magic or abilities for the wow factor. It will likely intrigue readers of Red Queen by Victoria Aveyard, or The Queen's Thief by Megan Whalen Turner.
Content Analysis:
Profanity/Language: 4 religious exclamations; 1 mild obscenity; 1 anatomical term. Note: Characters frequently say "The god of lies (or of good health, of debts, or life, or vengeance, etc.), but more as a comment rather than swearing.
Violence/Gore: A character is said to have an old brand; there is mention of the conquest of a people; characters are involved in slave trading and auctioneering; a character is described as being "bruised and brutish"; a character's face is swollen from a fight or beating; characters discuss battle strategy; a character recalls being attacked at home; characters duel, and blood is drawn (minimal gore); a character threatens to destroy another's property; character is bruised from weapons training; two characters discuss feuding families; character recalls the punishment for a runaway slave is disfigurement by cutting off the nose and ears; character is implied to have a bad temper; characters occasionally think vengeful thoughts of others; characters occasionally gossip about and/or discuss treason, execution, torture and/or death; character is imprisoned and threatened with certain death; character is discovered to have survived a plague; character is threatened death if he does not heal someone; character kills himself after healing a child; character "cuts" another to try and heal her (some description of blood); characters occasionally discuss the results of a war; character is ill; character commits suicide; character plots rebellion; character dies; character's wrist is gripped, hard enough to hurt; character challenge another to a duel; character implies being whipped in the past; characters duel, with some mention of injuries inflicted and received (not graphic); characters are occasionally threatened with death or violence; character is bedridden after sustaining injuries; characters discuss poisoning attendees at a ball; character recalls the death of his family; characters are occasionally threatened with a beating; characters are occasionally threatened with weapons; character threatens suicide a few times; characters occasionally physically fight; character is captured; a woman's throat is cut (some description of blood, not overly graphic); many characters are seen dead or dying after drinking poisoned wine; character is said to have a black eye; character's hands are tied; character knocks another unconscious; characters battle on a ship (some description of blood and violence, not overly graphic); character is injured in battle; character discovers prisoners have been killed (some description of blood and gore, but not overly graphic); character is assaulted by another; character kills his friend; character contemplates burning down a house; characters engage in a few battles; characters pour boiling water and tar on the enemy.
Most of the above instances are not gory or graphic and are mainly fairly brief.
There is one battle that is more graphic, where a cannon is fired and there is description of horses and people "split" into chunks, characters getting sniped with arrows, a character catching fire, falling and "exploding" from a container of black powder she was carrying, and a character setting a charge and the hillside "exploding."
Sex/Nudity: Sexual innuendo is implied when a character is welcomed to "look over" a slave; a character touches another character's hand (not sexual); a character implies a child is illegitimate; a character implies he has a sweetheart; a male character is remembered to have made an advance on a female character; a male character flirts and flatters a female character's "low cut dress and slashes sleeves"; characters discuss having children (not sexual); a male character aggressively "flirts" with a female (unwelcome, but not sexual); characters subtly flirt with others; a character is implied to have had a "fling" with a sailor; a character is thought to be in love with another; a character remonstrates a male character for toying with a girl's feelings; character occasionally has romantic thoughts of another; a character is implied to have a lover; female character hugs a male character (not sexual); a character accuses a male character of fathering an illegitimate child; a character is falsely accused of sleeping with her slave; a character jokingly asks if another has had a "lover's quarrel"; a character wears a low-cut dress; a male character "dresses" a female character's hair (not sexual, but there is sexual tension); a character asks a female character to marry him; two characters confess feelings for each other; two characters kiss; two characters touch romantically (not graphic, but intimate); a female character changes while a male character is in the room (not sexual); character recalls how another's kiss made her feel; there is sexual implication why a man would keep a conquered woman; a character is forced to pretend she will marry someone; a male character carries a female character to bed (not sexual); a character notices a male character's fascination with a female character; a female character is forced to wash a male character's feet (not sexual, but there is an undertone that may be uncomfortable for readers); male character assaults a female character (not graphic, the event is implied); a male character comforts a female character; a character accuses a male character of offering her as a possession; a character's blood "turns to wine" at another's touch; a character recalls her first kiss; a character has nightmares about a male character's previous assault on her; two characters hold hands; two characters kiss (not graphic, but the writing makes for an intimate scene); a character dreams of another; a character recalls the touch of her skin against a male character's; a character is forced into an engagement with another.
Most of the above scenes are brief, not overly graphic, and not overly sexual. Many events are often implied rather than described. Since the story is primarily a romance, there is a thread of sexual tension throughout the novel.
Mature Subject Matter:
Gambling, military lifestyle and content, slave trading, dueling, "bull jumping" (characters leap over bulls, catapulting from their rumps and over their horns, to celebrate their coming of age), death, suicide; gossip, poisoning, blackmail, attempted rape; war, betrayal.
Alcohol / Drug Use:
Characters occasionally drink wine at dinner; some mentions of dirty drinking songs while at an inn; characters occasionally demand or request a glass of wine; characters are poisoned; a character is given drugs to help her sleep.
Reviewed By Katrina