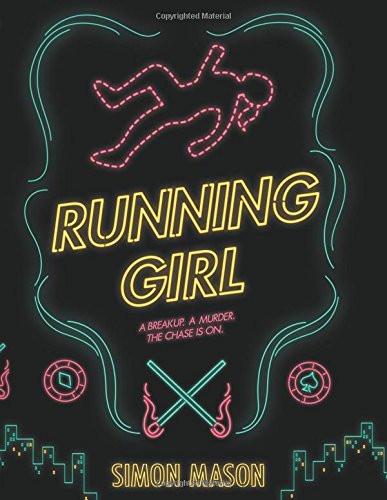 Publisher's Note:
Meet Garvie Smith. Highest IQ ever recorded at Marsh Academy. Lowest ever grades. What's the point? Life sucks. Nothing surprising ever happens.

Until Chloe Dow's body is pulled from a pond. Garvie's ex-girlfriend.

Inspector Singh is already on the case. Ambitious, uptight, methodical, he's determined to solve the mystery--and get promoted. He doesn't need any "assistance" from a notorious slacker.

Or does he?

Smart, stylish, and packed with twists and turns from start to finish, Running Girl introduces an unforgettable new character to the world of crime fiction--so lazy he'd only get out of bed for murder.
This book was sent to Compass Book Ratings for review by David Fickling Press
Running Girl
by Simon Mason
Overall Review:
If you're a fan of mysteries, twists, turns, whodunits, and surprises at every turn, then this book is for you. If you aren't a fan of these things, this is one book you might want to avoid.
Garvie Smith is a genius. He is also a truant, underage drinker and smoker, sarcastic busy-body, and could be on his way back to Barbados. He has gotten himself embroiled in an investigation into the death of his former girlfriend, much to the dismay of his mother and the police.
Overall this is an interesting read. Garvie, while naughty, is a likeable character. He is a well-developed character whose many facets will definitely keep you guessing. But he is also very believable. He has a conscience and eventually does realize just how much his actions are affecting his family.
All that being said, this is a book about murder. And not just one. Given the themes and content, this book is probably best suited for the older young adult set, rather than the younger. Mystery and intrigue abound and you'll be kept guessing until the last chapter.
Content Analysis:
Language: 4 religious exclamations; 9 mild obscenities; 11 derogatory names; 13 scatological words; 1 anatomical term; 1 offensive hand gesture; 3 F-word derivatives.
Violence/Gore: Man threatens to beat up teen; teen threatens to "straighten out" ex-girlfriend; brain teaser given describing stabbing murder; story told how one man almost "ripped off" the head of another; fall from swing resulting in nosebleed; teen is roughly escorted from casino and thrown out resulting in bumps and bruises; extended scene (10 pages) where man chases teen with wrench and eventually catches and hits in shoulder; building is set on fire and explodes with people inside; girl's body is pulled from a pond; character is found after hanging himself from roof of house; teen breaks down door of house resulting in bloodied hands and injuries; girl's feet are on fire when caught in house fire; attempted rescue from house fire results in burns, cuts, scrapes, and bloody injury of teen (2 page extended scene of rescue attempt); man hits woman with claw hammer in the back of the head; man and teen fight (6 pages) resulting in bloodied face, teen thrown against wall, choking, hitting with hammer, and vase being smashed against head; references to sexual predators, possible attempted rapes.
Sex/Nudity: Teen girl walks suggestively (three times); teen girl puts her feet on boy's legs; kiss to cheek by teens; reference to teenagers having sex (three times); reference to teen female's legs and body; reference to adult man exposing himself; teen puts hand on knee; arm placed around shoulders of teen; hand on arm; references to sexual predators, possible attempted rapes and peeping toms.
Mature Subject Matter:
Rape, gambling, homelessness, suicide, physical abuse of child and adult, breaking and entering.
Alcohol / Drug Use:
Teens drink, smoke, smoke weed, sell drugs and buy drugs throughout book.
Reviewed By Beckie