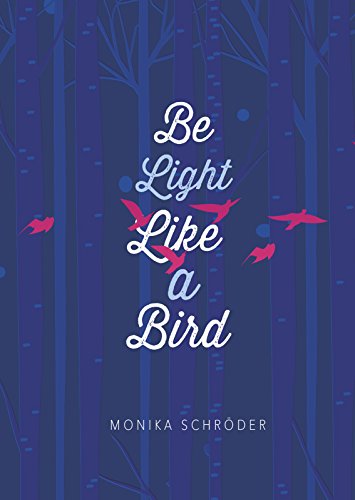 Publisher's Note:
After the death of her father, twelve-year-old Wren finds her life thrown into upheaval. And when her mother decides to pack up the car and forces Wren to leave the only home she's ever known, the family grows even more fractured. As she and her mother struggle to build a new life, Wren must confront issues with the environment, peer pressure, bullying, and most of all, the difficulty of forgiving those who don't deserve it. A quirky, emotional middle grade novel set in Michigans Upper Peninsula, Be Light Like a Bird features well-drawn, unconventional characters and explores what it means to be a family and the secrets and lies that can tear one apart.
This book was sent to Compass Book Ratings for review by the Author
Be Light Like a Bird
by Monika Schroder
Overall Review:
Written in straight-forward, no-nonsense prose, Be Light Like a Bird is contemporary middle grade fiction that is ideal for tweens. Also, because the storyline clips along, it is a great reading option for those readers who don't often gravitate naturally towards this genre. A lightning-fast read, this is a narrative that never becomes too bogged down, which seems especially appropriate given the novel's title. There are many side-characters that make brief appearances, but the focus really is on Wren, the protagonist, and her procession through grieving for her father and for her former life. Although there are no unexpected plot twists or surprises, with themes surrounding love, loss, grief, forgiveness, change, and acceptance, there is plenty here for young readers to think about and discuss.
Content Analysis:
Profanity/Language: None
Violence/Gore: Report of death of a parent in an accident, incident is referred to several times throughout the book; death of a parent reported (several years ago): several occasions in the book where a character stops to examine roadkill and then bury it, with a few sentence describing the state of the dead animal, with mention so of blood, etc.; character has scars from where he was violently injured by parent and a foster parent; character has a picture of a dead animal; a character comes upon a dead pet and has to find owner and then buries pet.
Sex/Nudity: Characters are teased about being boyfriend/girlfriend (they are not); girl sees her mother kiss her date; someone says something that makes the character think of "sanitary napkins"; a character finds some black, silky, lacy underwear; a parent indicates to their child that their spouse cheated on them and was seeing someone else.
Mature Subject Matter:
Death of a parent, grieving, bullying, ecological preservation, death of animals, marital infidelity, child abuse/abandonment.
Alcohol / Drug Use:
Incidental character smokes and drinks.
Reviewed By Cindy