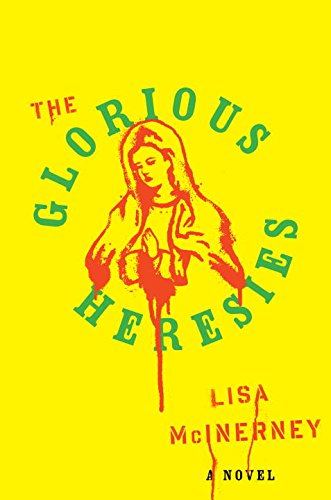 Publisher's Note:
From Lisa McInerney, hailed by The Irish Times as "arguably the most talented writer at work in Ireland today," comes The Glorious Heresies, a searing debut novel about life on the fringes of Ireland's post-crash society.
When grandmother Maureen Phelan is surprised in her home by a stranger, she clubs the intruder with a Holy Stone. The consequences of this unplanned murder connect four misfits struggling against their meager circumstances. Ryan is a fifteen-year-old drug dealer desperate not to turn out like his alcoholic father, Tony, whose feud with his next-door neighbor threatens to ruin his family. Georgie is a sex worker who half-heartedly joins a born-again movement to escape her profession and drug habit. And Jimmy Phelan, the most fearsome gangster in the city and Maureen's estranged son, finds that his mother's bizarre attempts at redemption threaten his entire organization.
Biting and darkly funny, The Glorious Heresies presents an unforgettable vision of a city plagued by poverty and exploitation, where salvation still awaits in the most unexpected places.
This book was sent to Compass Book Ratings for review by Tim Duggan Books
The Glorious Heresies: A Novel
by Lisa McInerney
Overall Review:
Have you ever read a book and felt sorry for it? That's how I felt after finishing this book. Not sorry because it isn't well-written, but sorry because I'm not sure how many people will appreciate it. I want to like books. Not only because I am investing time in them, but books make me happy, and I love being able to rate them highly.
The Glorious Heresies has a lot going on. That was my first hint at the chaos that might ensue. My second hint was the narrators jumping around, and me being unsure who was who, and how they were connected. I reached the end of this novel, and I still wasn't sure who I was reading about. Was it the elderly woman? The young man? Or maybe one of the many other characters? There is quite a lot of language and other somewhat taboo behavior throughout this book so that didn't help matters much either.
I did find a bit of a rhythm throughout this book at times, which was helpful in the duty of finishing it. If I weren't writing this review, I probably would have given up on The Glorious Heresies, but I finished it, and now I feel sorry that it fell flat for me. Others may want to pick up this book to see what their opinion is.
Review of an Advance Reading Copy
Content Analysis:
Profanity/Language: 3 religious exclamations; 1 mild obscenity; 6 derogatory names; 10 scatological words; 3 anatomical terms; 61 f-word derivatives. (Note: use of the word "bloody" as a profanity not tallied.)
Violence/Gore: A woman is pictured in one scene after having killed a man, some pooling blood is mentioned (this instance is referred to several times); a man is mentioned to have killed authorities; a man is referred to as a child abuser; a man is referred to as violent after several violent acts; a man is mentioned to have broken a window; a man thinks he is capable of murder.
Sex/Nudity: A man is mentioned to have had sex with an unconscious minor; porn is referred to with no detail; minors kiss; minors undress and sex is implied in one brief scene with no detail; multiple affairs are mentioned; prostitution is mentioned in jest and seriously; a whorehouse is referred to; a couple is mentioned to have been "all over each other"; women are referred to as "working girls" (prostitution implied); a woman is implied to be interested in minor males; adults kiss; a woman is mentioned to have had a child out of marriage; a several page discussion is had about oral sex with some description; touching of private areas is mentioned in no detail.
Mature Subject Matter:
Divorce, abuse, gambling, murder, extramarital affairs.
Alcohol / Drug Use:
Cocaine is mentioned; a minor is mentioned to be in possession of Coke; smoking a joint is mentioned; a man is in rehab for alcoholism; drug dealing; drinking beer is implied; a drug bust is mentioned; heroin use mentioned; minors do and deal drugs.
Reviewed By Lydia