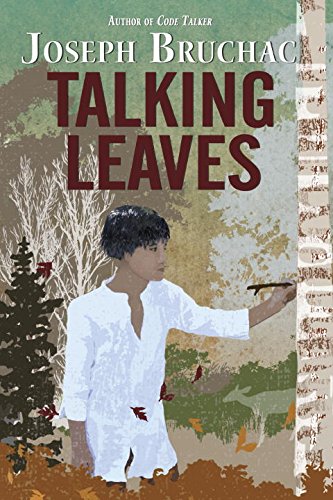 Publisher's Note:
A new work of historical fiction about Sequoyah and the creation of the Cherokee alphabet, from the acclaimed author of Code Talker

Thirteen-year-old Uwohali has not seen his father, Sequoyah, for many years. So when Sequoyah returns to the village, Uwohali is eager to reconnect. But Sequoyah's new obsession with making strange markings causes friends and neighbors in their tribe to wonder whether he is crazy, or worse—practicing witchcraft. What they don't know, and what Uwohali discovers, is that Sequoyah is a genius and his strange markings are actually an alphabet representing the sounds of the Cherokee language.

The story of one of the most important figures in Native American history is brought to life for middle grade readers
This book was sent to Compass Book Ratings for review by Dial Books for Young Readers
Talking Leaves
by Joseph Bruchac
Overall Review:
The ability to read and write gives a people power; to be able to document, remember and communicate. But to write anything one must first start with letters, an alphabet. What happens when your language has no alphabet and one of your people creates one? Will it be embraced or will superstition destroy it?
It is exactly this question that is explored in Talking Leaves, a beautiful piece of historical fiction by Joseph Bruchac. In Talking Leaves the reader is given a fictional accounting of the true story about the birth of the Cherokee alphabet. Complete with many authentic Tsalagi (Cherokee) legends, Bruchac weaves a truly enchanting tale. Written using a first person narrative, the author delivers a story with an oral tone so perfect that it is more heard than read.
By telling the events through the eyes of a young boy, the author makes many of the complex events depicted in the book accessible to younger readers. While the details of the main story are a fictional, the story is so entrancing as to create a desire within the reader to dig deeper and learn more about this little known part of our history and the genius of the man who created an alphabet. Talking Leaves is a must read for any fan of historical fiction.
Review of an Advance Reader's Copy

Content Analysis:
Profanity/Language: None

Violence/Gore: Reference to a man dying from disease; a few scenes of hunting resulting in animal death; individual left disabled after childhood illness; many legends told, some containing acts of violence; reference to violence perpetrated while drunk; several instances of people plotting violence; reference to a structure burned down; reference to boy burning fingers; reference to sporting events becoming overly physical; reference to boy twisting ankle; reference to animals being over hunted; individual cuts hand; extended scene recounting war, mildly graphic; brief references to people being urged to/killing pets; girl pokes boy; men plot to burn down cabin; boy attacked by men.
Sex/Nudity: None
Mature Subject Matter:
Family, superstition, culture, war, historical events that could be troubling (Native American Oppression).
Alcohol / Drug Use:
Many references to adults drinking whiskey.
Reviewed By Amberle