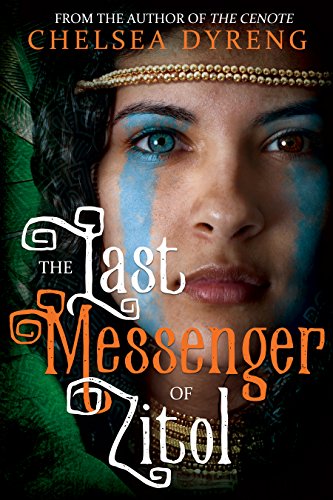 Publisher's Note:
When Rishi is kidnapped and taken to Zitól, she faces an unthinkable future: she is to be sacrificed to appease the gods. To survive in this place, where greed, lust, and fear eclipse compassion, Rishi befriends the selfish and ignorant king, only to discover that he may not have the power to save her after all.
This book was sent to Compass Book Ratings for review by Cedar Fort
The Last Messenger of Zitol
by Chelsea Dyreng
Overall Review:
It is rare to read a story with a protagonist quite like Rishi. She is perfectly loyal, full of integrity and courage, but above all, she values and will protect her virtue at all cost. Of course with such a superb protagonist there must be an antagonist (or a few) to match and author Chelsea Dyreng created several of them who fill their evil roles to perfection. Along with great characters, the extensive details used to describe the different settings are incredible. Dyreng's diction is poetic and beautiful; "Heaven pulled its black cape over the sky, covering the earth in a vast starlit dome". There are some poignant moments as well as inspiring ones taking the reader's emotions on a bit of a rollercoaster. Be prepared for an ending that the reader won't anticipate. This is a book that one will ponder long after turning the final page.
Fans of Mandy Madson Voisin's Star of Deliverance might find similarities to and also enjoy The Last Messenger of Zitol.
Content Analysis:
Profanity/Language: None

Violence/Gore: Many (55) brief incidents including character imagining another character's eyes popping out of head; animals could eat character; character wants to tear off skin; character considers what they could do to hurt another with a machete; character jokes about slitting wrists; character felt like locusts eating him from the inside out; joke about breaking legs; character appears to be ready to choke another; character will be hurt or killed; verbal threats; character contemplates suicide; story of girls getting kidnapped and implication that they might've been killed; implied death; reference to eating animal hearts; reference to cutting out tongue; lighting character's braids on fire; character is missing ear and hand; secondhand report of a village being burned and destroyed; secondhand report of girls getting kidnapped; references to murder; secondhand report of babies getting killed; insinuation that characters are killed by an animal; several incidents of characters receiving non-life threatening injuries; character has several dreams of characters hurting or killing others; characters shot with poisonous darts; characters kidnapped; character sees animal carcasses and blood at a butcher shop; characters hold raw meat for an animal to eat; character gets stabbed; character has knife at throat and receives a small cut; characters fight and tie up others; character decapitated; character dies of old age; murders including little detail; murder with depiction of mutilation of body part. One extensive incident of a man attempting to rape a girl (descriptions focus on actions of resistance).
Sex/Nudity: Many (33) brief incidents including touching ankle, face, knee, back, shoulder; holding hands; kissing; male character looks at female character sexually; several incidents of innuendo; many references to virginity; character worried about getting raped; reference to where babies come from; thinking another character had sex; a few incidents of implied rape; woman dancing seductively and another character sees her "bosoms" while bending over. One extensive incident of a man attempting to rape a girl (descriptions focus on ctions of resistance).
Mature Subject Matter:
Slavery, human and animal characters getting starved, rape, murder, kidnapping.
Alcohol / Drug Use:
Reference to fermented drinks; smoking pipe; characters drinking alcohol.
Reviewed By Jenny