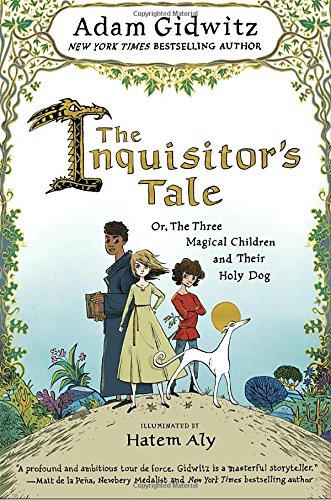 Publisher's Note:
An exciting and hilarious new medieval adventure about history, religion . . . and farting dragons, from the bestselling author of A Tale Dark and Grimm.

1242. On a dark night, travelers from across France cross paths at an inn and begin to tell stories of three children: William, an oblate on a mission from his monastery; Jacob, a Jewish boy who has fled his burning village; and Jeanne, a peasant girl who hides her prophetic visions. They are accompanied by Jeanne's loyal greyhound, Gwenforte . . . recently brought back from the dead.
As the narrator collects their tales, the story of these three unlikely allies begins to come together.

Their adventures take them on a chase through France to escape prejudice and persecution and save precious and holy texts from being burned. They're taken captive by knights, sit alongside a king, and save the land from a farting dragon. And as their quest drives them forward to a final showdown at Mont Saint-Michel, all will come to question if these children can perform the miracles of saints.

Beloved bestselling author Adam Gidwitz makes his long awaited return with his first new world since his hilarious and critically acclaimed Grimm series. Featuring manuscript illuminations throughout by illustrator Hatem Aly and filled with Adam's trademark style and humor, The Inquisitor's Tale is bold storytelling that's richly researched and adventure-packed.
This book was sent to Compass Book Ratings for review by Dutton Children's
The Inquisitor's Tale: Or, The Three Magical Children and Their Holy Dog
by Adam Gidwitz
Overall Review:
Absolutely stunning! My enjoyment of this book was completely unforeseen. I was even a bit skeptical when I picked up this book with its somewhat bombastic title and a tag line referencing farting dragons.
Set in France in the year of our Lord 1242, the story unfolds through the voice of many different observers, as they come together by chance at an inn, and an unidentified individual begins to ask about the three children and a dog who are the source of wild-flying rumors. The story flows brilliantly, even though the voice of the narrator and style is constantly changing, mainly because it is told in a linear fashion without a lot of time-jumping. The characters are an unlikely bunch, but utterly endearing with their loyalty, acceptance, and persistence. This is an adventure--even a quest, but it also almost magically captures deeper themes and issues that resonate today. The author also struck a perfect balance in voicing the text; it feels medieval in flavor, but oddly modern without being incongruent. There is depth tempered with humor.
The illuminations by Hatem Aly are the crowning finish to a book that has won its place into my heart and into my permanent collection. Like all truly great middle grade fiction, this isn't just a book for children.
There are fantastic notes in the back so be sure to read those, too. Readers who would like other fabulous reads about the middle ages should try Catherine, Called Birdy and Good Masters! Sweet Ladies!
Review of an Advance Reading Copy
Content Analysis:
Profanity/Language: 15 religious exclamations; 3 mild obscenities; 1 derogatory name; 1 anatomical term.
Violence/Gore: Animal kills a snake; character smashes property; men with swords chase girl; ~2 page scene told in a somewhat fantastical/tall tale-like style--but with brief depictions of blood and gore--where boy fights "dark people" (mythical?) smashing heads so they exploded like melons, mentions of blood splattering, ripping a leg off an animal, but later miraculously reattaching leg to the animal, etc.; girl and adult hauled off against will; men push a small boy (hard and cruel) and threaten to kill, actively choke; characters fight with tackle, sword, tripping, dog biting, etc. brief scene, non-descriptive; multi-page secondhand account of what happened to a group while fighting in the crusades--fighting, robbing, murder men of Go; secondhand account of a mythical creature killing animals with a fart; encounter with mythical creature resulting in severe injury; destruction of property by fire; children are chased; brief fight involving tackling, drawing of swords, dog biting, no serious injuries; telling of a ghost coming back from dead, a couple of sentences of description; threat to kill at knifepoint; brief recounting of violent deaths of some saints; brief recounting of a vision of the crucifixion of Christ; ~2 page scene destruction of property, character is burned in a fire, character injured with sword, and characters pursued; character hypothesizes about why he should kill some children; children are pursued by armed men with intent to kill--many horses and men meet their deaths.
Sex/Nudity: Character says he sung a dirty song; innuendo about a boy's parents; someone tells that they fell in love.
Mature Subject Matter:
Religion, heresy, racial and religious prejudice/persecution, bullying, arson, book burning.
Alcohol / Drug Use:
Ale drinking at a tavern; a character is a brewster; weak ale given to kid in exchange for a story; a friar is drunk; character says debaters will get drunk and end up fighting.
Reviewed By Cindy