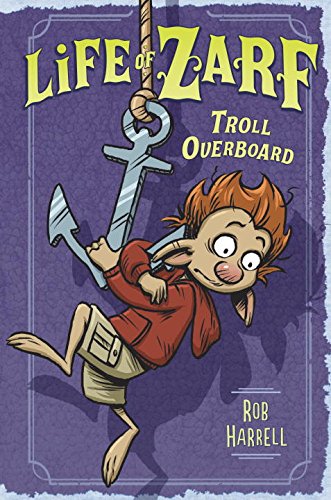 Publisher's Note:
Land of Stories meets Dork Diaries in the third book of the hilarious fractured fairy tale series about an unpopular troll and his underdog pals

As a troll, Zarf is already at the bottom of the food chain when it comes to popularity at Cotswin Middle School. So when his Gramps shows up at career day, Zarf is sure his cool factor will hit an all-time low. What he doesn't expect is for the super-obnoxious Prince Roquefort to take an interest in Gramps's nautical know-how. Zarf is sure the prince is up to something . . . but why would he want Gramps to take him on a boat ride perilously close to the Berundi Rectangle? And why does he keep mumbling about magic beans?

Award-winning comic creator Rob Harrell has cooked up another laugh-out-loud funny fairy-tale romp. Packed with witty one-liners and clever twists on fairy-tale tropes, this series is pure magic for fans ofThe Decedents.
This book was sent to Compass Book Ratings for review by Dial Books for Young Readers
Life of Zarf: Troll Overboard
by Rob Harrell
Overall Review:
If you are looking for the next series that is somewhat witty, somewhat irreverent (in a young boy type of a way), and kind of similar to Diary of a Wimpy Kid, this series by author Rob Harrell called Life of Zarf might be one to pick up. Life of Zarf: Troll Overboard is the third book in the series and is filled with adventure, silliness, and instead of just humans there are trolls, ogres, wizards, gnomes and the like. But just like the other series mentioned, Life of Zarf addresses the awkwardness and turmoil of middle school aged kids in a comical and light-hearted way.
Zarf is your typical middle schooler, just trying to survive the bullies and awkwardness that comes with the age. He and his friends are just trying to lay low and avoid the Prince and his cohorts. Unfortunately, the Prince has other plans and they all end up stranded in the middle of the ocean. Will they survive? Will they throw each other overboard? And what will they do about the pirates? Well, as they learn from each other's strengths and maybe overlook some annoyances, they just might get out of their predicament, but you'll have to read the book to find out.
Another appeal to the Life of Zarf: Troll Overboard are the pictures throughout the book, almost on every page, that add to the story and the comic relief that comes with this type of novel. While not necessarily a life-moving novel, the silliness and originality will certainly draw in the reluctant readers and hook them with the likable, but different characters and storyline.
Book Review of an Advance Reader's Copy
Content Analysis:
Profanity/Language: 1 religious exclamation.
Violence/Gore: Character dreams that another character lets him fall off a cliff by letting go of his hand; character sees another person pinned against lockers by a bully; character shoves bully out of the way; characters shove and push one another trying to get to class first; characters are tied up against their will; characters threatened that if they don't comply they'll get thrown to the sharks; character knocked on the head by an ogre; characters get eaten by a giant animal; character uses a giant thorn to defend himself against a giant animal; character has sword wielded in his face in a threatening way; characters are handcuffed and taken as prisoners; character retells rumor how pirates eat people and use their skulls as drums; character kicks out the legs of a chair, causing the person to fall; character attacked by an oversized creature; characters shoot stun gun like things at creature; character's ship attacked by mythical creature; character attacks mythical creature and tears off a limb; character pulled by ear as a form of punishment.
Sex/Nudity: Character holds hands with a girl; character kissed on the cheek by a mermaid; girl hugs a boy.
Mature Subject Matter:
Bullying.
Alcohol / Drug Use:
Pirate character sings of drinking rum and rye.
Reviewed By Sally