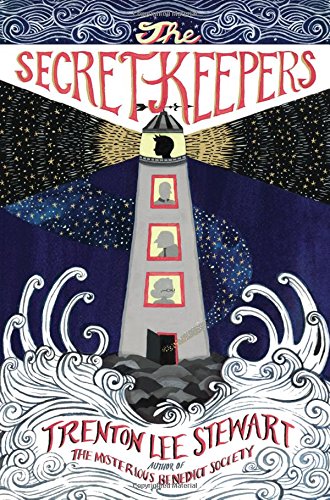 Publisher's Note:
A heart-pounding mystery adventure laced with magic and humor by the author of the New York Times bestselling series, The Mysterious Benedict Society
A magical watch
A string of secrets
A race against time
When Reuben discovers an extraordinary antique watch, he soon learns it has a secret power and his life takes an intriguing turn. At first he is thrilled with his new treasure, but as one secret leads to another, Reuben finds himself torn between his innately honest nature and the lure to be a hero.
Now he is on a dangerous adventure--full of curious characters, treacherous traps, and hairsbreadth escapes--as he races to solve the mystery before it is too late. Even with fearless Penny, mighty Jack, and the wise Mrs. Genevieve on his side, can Reuben outwit and outmaneuver the sly villain called The Smoke and his devious defenders the Directions and save the city from a terrible fate?
In this ingeniously crafted novel, acclaimed New York Times bestselling author Trenton Lee Stewart invites readers to join the adventure, decipher the clues, and ask themselves the question: Is knowing a secret a gift or a curse.
This book was sent to Compass Book Ratings for review by Little, Brown Books for Young Readers
The Secret Keepers
by Trenton Lee Stewart
Overall Review:
Weighing in at over 500 pages (with some illustrations), The Secret Keepers is a new middle grade mystery by Trenton Stewart, author of The Mysterious Benedict Society. It is a mystery in that there are plenty of mysterious goings-on and puzzles to be untangled, but it is not a linear who-done-it formula story. With cracker-jack writing that is stylistically similar to the Benedict books, this is not the first in the series, but rather a standalone offering. The author spends a great deal of time in description; in fact, at about a third of the way into the book, one realizes that technically "nothing has happened" yet and that the reader only truly knows one character. So perhaps, an impatient, young reader might be frustrated by the lack of action as the protagonist is painstakingly puzzling things out. However, if one holds on, the pace picks up, more characters are introduced, a few interesting twists do emerge, and the tension starts to mount. With its rock-solid writing and young characters that are relatable (aka normal with normal abilities), this is a novel that precocious young readers will enjoy, especially if they are fans of Mr. Stewart or The Westing Game.
Review of an Electronic Advance Reading Copy
Content Analysis:
Profanity/Language: 2 religious exclamations.
Violence/Gore: General reference to death of a parent in a factory accident, no details; implied threats; threats against a police officer; character faints, hitting floor; character shows scar from snake bite; character indicates they are in great peril; character says she knows someone will try to kill her; character injuries hand while hammering, mention of blood; report someone has killed others; cuff to the head (friendly); report of man being arrest and resisting/hurting officers; rumor someone either died of heart of attack or killing self; report character punched someone in the nose; character hits wrists and falls; suggestion to knock someone out; multi-page scene where character pursues another with intent to do harm, characters hit each other, character grabbed by hair, character held as a hostage and threatened.
Sex/Nudity: None
Mature Subject Matter:
Organized crime, lying, stealing, death of a parent, economic hardship.
Alcohol / Drug Use:
Adult smokes cigar; adult drinks brandy.
Reviewed By Cindy