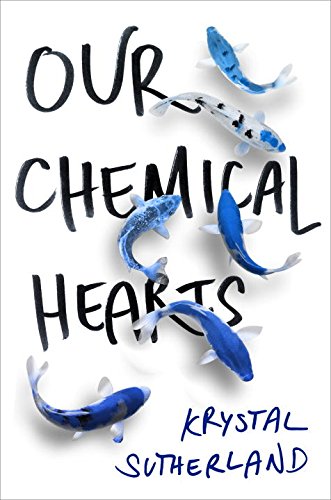 Publisher's Note:
John Green meets Rainbow Rowell in this irresistible story of first love, broken hearts, and the golden seams that put them back together again.

Henry Page has never been in love. He fancies himself a hopeless romantic, but the slo-mo, heart palpitating, can't-eat-can't-sleep kind of love that he's been hoping for just hasn't been in the cards for him—at least not yet. Instead, he's been happy to focus on his grades, on getting into a semi-decent college and finally becoming editor of his school newspaper. Then Grace Town walks into his first period class on the third Tuesday of senior year and he knows everything's about to change.

Grace isn't who Henry pictured as his dream girl—she walks with a cane, wears oversized boys' clothes, and rarely seems to shower. But when Grace and Henry are both chosen to edit the school paper, he quickly finds himself falling for her. It's obvious there's something broken about Grace, but it seems to make her even more beautiful to Henry, and he wants nothing more than to help her put the pieces back together again. And yet, this isn't your average story of boy meets girl. Krystal Sutherland's brilliant debut is equal parts wit and heartbreak, a potent reminder of the bittersweet bliss that is first love.
This book was sent to Compass Book Ratings for review by G. P. Putnam's Sons
Our Chemical Hearts
by Krystal Sutherland
Overall Review:
Our Chemical Hearts has everything you'd expect from a high school story: unhealthy relationships, crazy parties, and intense drama. It's replete with pop-culture references and witty humor that's bound to make you reminisce or laugh out loud (possibly both). Author Krystal Sutherland creates fantastic characters whom we all can relate to, including the perfect circle of friends. First there's the funny guy who's invariably good for a laugh, the protector who is always trying to make sure you're not making stupid choices, and the one who is always making said stupid choices and needs the protection. The friends are also fiercely loyal to each other. Of course with the aforementioned unhealthy relationships there must be a character who is severely dysfunctional, causing any normal relationship to be insurmountable. But this character in particular keeps the pages turning because you can't wait to see what daft thing she will do next. While the plot may seem to be only a shallow high school drama on the surface, there is more substance to the story than you might expect as Sutherland includes subjects and perspectives that are profound and thought-provoking. Anyone who enjoys impossible love stories or serious high school drama will enjoy Our Chemical Hearts.
Review of an Advance Reading Copy
Content Analysis:
Profanity/Language: 45 religious exclamations; 65 mild obscenities; 13 religious profanities; 5 derogatory names; 67 scatological words; 34 anatomical terms; 33 f-word derivatives.
Violence/Gore: Many (26) brief incidents including character joking about another joining a fight club; a few incidents of characters joking about suicide and getting murdered; two incidents briefly mention a violent video game; joking verbal threat; secondhand report of fight at school; reference to car accident resulting in death of one and another wishing for same fate; reference to plane crashes and serial killers; mention of killing in a book; secondhand report of character dying of alcoholic hepatitis; references to war; secondhand report of character accidentally knocking someone briefly unconscious; reference to characters getting pepper sprayed; news report of someone getting stabbed; character causing self-inflicted minor injuries; reference to cutting.
Sex/Nudity: Many (58) brief incidents including holding hands; cuddling; hugging; kissing (including homosexual); head and hand on shoulder; touching face; touching face; arms around; several references about having or wanting to have sex; reference to boys being "sex monsters"; references to sexually transmitted diseases; several references to character being homosexual; references to sexual anatomy; character's parents gives him condoms; mentioning characters looking sexy; character thinks about another naked; reported sex; two references of characters (including children) looking at pornography; characters touching areas normally covered by bathing suit; one incident of sexual activity of minors without explicit detail; character only wearing underwear.
Mature Subject Matter:
Sexually transmitted diseases, theft, arson, underage drinking, trespassing, breaking and entering, sexual predators (reference), teenage sex, homosexuality.
Alcohol / Drug Use:
Several incidents of underage drinking; references to junkies; teenagers smoking cigarettes and cigar; characters joke about illegal activity; reference to teenage character brewing moonshine and growing marijuana; reference to character being an alcoholic and meth user; reference to drug dealer; character mentions alcoholic grandfather is hero due to alcoholism.
Reviewed By Jenny