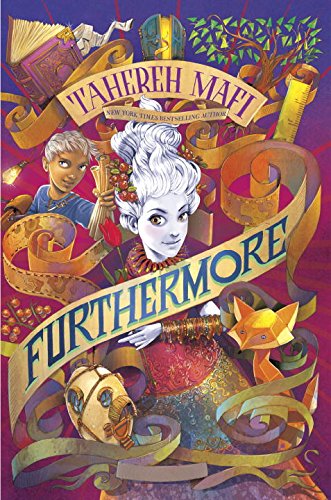 Publisher's Note:
The bestselling author of the Shatter Me series takes readers beyond the limits of their imagination in this captivating new middle grade adventure where color is currency, adventure is inevitable, and friendship is found in the most unexpected places.

There are only three things that matter to twelve-year-old Alice Alexis Queensmeadow: Mother, who wouldn't miss her; magic and color, which seem to elude her; and Father, who always loved her. The day Father disappears from Ferenwood he takes nothing but a ruler with him. But it's been almost three years since then, and Alice is determined to find him. She loves her father even more than she loves adventure, and she's about to embark on one to find the other.

But bringing Father home is no small matter. In order to find him she'll have to travel through the mythical, dangerous land of Furthermore, where down can be up, paper is alive, and left can be both right and very, very wrong. Her only companion is a boy named Oliver whose own magical ability is based in lies and deceit—and with a liar by her side in land where nothing is as it seems, it will take all of Alice's wits (and every limb she's got) to find Father and return home to Ferenwood in one piece. On her quest to find Father Alice must first find herself—and hold fast to the magic of love in the face of loss.
This book was sent to Compass Book Ratings for review by Dutton Children's
Furthermore
by Tahereh Mafi
Overall Review:
Alice is an enigma, a girl with no color in a magic world where color is everything. Oliver is a boy whose magic allows him to know everyone's secrets and to manipulate their thoughts with a few words. Neither care much for the other but it is only together that they can save Alice's father from an unknown fate.
Furthermore by Tahereh Mafi is a riot of color in black and white. Mafi's vivid descriptions provide the reader with a mental feast and allow them to fully immerse themselves in the world she's created. The magic of Furthermore weaves a setting so tangible that it takes on a life of its own and becomes a character who shares the stage equally with Alice and Oliver. As for the characters, Alice and Oliver are dynamic, yet relatable young people who are both broken in their own ways. Mafi's Furthermore is a magical adventure that will leave the reader begging to know what will happen next.
Review of an Advance Reader's Copy
Content Analysis:
Profanity/Language: None
Violence/Gore: (Many implied or near acts of violence have an absurd or exaggerated tone) character runs into character; girl punches and kicks boy; woman nearly bites off girl's hand; character accidentally throws fork at character; implication that girl is spanked with a ladle; character is made to sleep with pigs; character trips; girl bites boy and prepares to hit him with a shovel; boy pulls girl's hair; girl pinches boy; character imagines man eating a caterpillar; girl fights urge to kick a woman; girl kicks boy; character offers to cut head off; character falls into water; many references to cannibalism; boy tackles girl; girl resists the urge to punch boy; girl threatens to push boy in a lake; Several references to the land itself trying to kill people; reference to people dying in child-birth; several instances of characters landing hard on the ground; girl wishes to kill boy; character loses arm; characters battle paper animals; character references dead animals; characters run into a wall; reference to a woman pushed out of a tree; children are poisoned/drugged; children attacked with a knife; children jump out of a tree.
Sex/Nudity: Many instances of hand holding (affectionate, supportive and out of necessity); boy and girl hug; boy puts arm around girl; couple instances of a boy seeing girl's underwear (non-sexual); girl disrobes in front of boy (non-sexual); boy lifts girl by the waist; boy touches girls hair.
Mature Subject Matter:
Family, abuse/neglect, magic, differences, cannibalism, politics.
Alcohol / Drug Use:
Children are poisoned/drugged.
Reviewed By Amberle