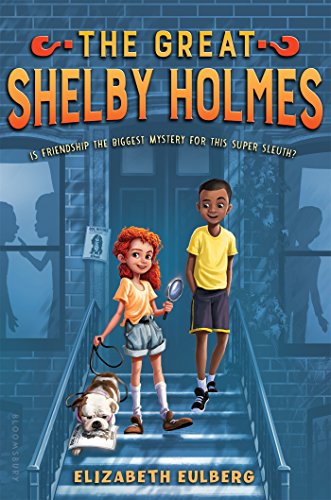 Publisher's Note:
Shelby Holmes is not your average sixth grader. She's nine years old, barely four feet tall, and the best detective her Harlem neighborhood has ever seen-always using logic and a bit of pluck (which yes, some might call "bossiness") to solve the toughest crimes.
When eleven-year-old John Watson moves downstairs, Shelby finds something that's eluded her up till now: a friend. The easy-going John isn't sure of what to make of Shelby, but he soon finds himself her most-trusted (read: only) partner in a dog-napping case that'll take both their talents to crack.
Sherlock Holmes gets a fun, sweet twist with two irresistible young heroes and black & white illustrations throughout, in this middle grade debut from internationally bestselling YA author Elizabeth Eulberg.
This book was sent to Compass Book Ratings for review by Bloomsbury Children's Books
The Great Shelby Holmes (The Great Shelby Holmes Series #1)
by Elizabeth Eulberg
Overall Review:
What's a new kid in town to do when the only person he knows is a pint-sized 9-year-old Sherlock Holmes incarnate? Why, tag along and try to prove your worth, of course; all the while getting to know the neighborhood. This is exactly what John Watson does in this clever and charming new mystery series, The Great Shelby Holmes by Elizabeth Eulberg. John and his mom have just moved to NYC, after living the life of a military family of always having to move every couple of years. The first person John meets is brainiac, yet a little socially awkward, Shelby Holmes, who also happens to be his neighbor. She reluctantly takes him under her pint-sized wing and shows him the ropes in their NYC neighborhood, all while trying to solve her current case of a dog napping. For John, he learns his way around and has his mind diverted from his parent's divorce. For Shelby, she learns how to not only have a friend but how to be a friend.
The Great Shelby Holmes is a fun and creative recreation as well as a nod to the original Sherlock Holmes by Sir Arthur Conan Doyle. (Shelby's dog is even named Sir Arthur). There are little references and nods to the original sleuthing genius, which made it fun to read as an adult fan of Holmes. Hopefully, younger readers will feel the desire to check out the originals as well, after reading this first novel in what will hopefully be a long series, as this novel is a great addition to the mystery genre for this age group and will appeal to any child that is looking for a little mystery in their life.
Content Analysis:
Profanity/Language: None
Violence/Gore: None
Sex/Nudity: None
Mature Subject Matter:
Divorce.
Alcohol / Drug Use:
None
Reviewed By Sally