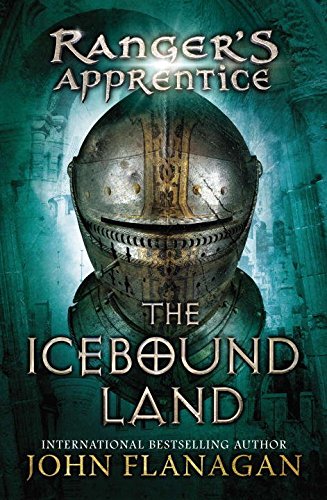 Publisher's Note:
The international bestselling series with over 5 million copies sold in the U.S. alone!

Kidnapped after the fierce battle with Lord Morgarath, Will and Evanlyn are bound for Skandia as captives aboard a fearsome wolfship. Halt has sworn to rescue Will, and he will do anything to keep his promise–even defy his King.
Expelled from the Rangers he has served so loyally, Halt is joined by Will's friend Horace as he travels toward Skandia. On their way, they are challenged constantly by freelance knights–but Horace knows a thing or two about combat. Soon he begins to attract the attention of knights and warlords for miles around with his uncanny skill. Even so, will they be in time to rescue Will from a horrific life of slavery?
The smash hit series continues with another heart stopping adventure.

Perfect for fans of J.R.R. Tolkien's Lord of the Rings, T.H. White's The Sword in the Stone, Christopher Paolini's Eragon series, and George R. R. Martin's Game of Thrones/A Song of Ice and Fire series.
Ranger's Apprentice Book 3: The Icebound Land
by John Flanagan
Overall Review:
As always with this author, John Flanagan, the quality of writing is fantastic. The story is captivating and relatable; however, from a parent's point of view, it's also heart-breaking. This book deals firsthand with drug addiction and human trafficking in the form of slavery. It is compelling to see how the characters deal with their horrific circumstances and the lengths they go to in order to overcome their challenges.
The pacing of Icebound Land is easy to read and written with kids in mind but enjoyable for middle ages and up. This story is engaging with non-stop action while the good characters are likeable and people of integrity. The bad guys act in true bad-guy fashion and are deplorable and untrustworthy. John Flanagan continues to build upon the characters we have come to know in the first two books of the series. We are still learning the depth of the individuals, their growth of personal morals, and the testing of friendships. Being third in a series of thirteen books, they have so far all been superb reads. The author leaves the reader with a bit of a cliffhanger so book four is a must read because it completes the story of what happens to our characters as they deal with their traumatic conditions.
Content Analysis:
Profanity/Language: 1 religious exclamation; 16 mild obscenities.
Violence/Gore: Characters taken captive and held against their will; man shoots arrow in small building, narrowly missing man; soldiers use clubs on character; character banished for treason; characters sold into slavery; a death vow of vengeance is threatened against a family; political unrest resulting in death, threats mentioned multiple times but no gory details; duels between characters mentioned multiple times; knife thrown at an item representing a human head; character held by arm in a threatening manner; character knocked unconscious by a man; gang violence in one town was pronounced to an extreme, periodically resulting in death; teen boy (slave) beaten ith a rope by 20-year-old slave, brief description; treacherous work results in hopelessness and unintentional drug abuse; fights are sought after with intent to kill; character is hit on face by a man; character uses a knife as a form of protection; potential threat of sexual harm implied against female character; pivotal character threatens region; incidental character killed in duel, brief description of death, non-bloody; incidental characters held captive to point of death (multi-page account, non-bloody), corpses used as a warning sign; mention of corpses eaten by birds, brief details but emotionally descriptive; innocent people are flogged and sometimes held in life threatening situations, brief details but deeply emotional; characters held captive for lengthy time against their will; another man killed in duel.
Sex/Nudity: Very brief threat of sexual harm to a female character, threat not carried out.
Mature Subject Matter:
Bullying, gang violence, drug abuse, slavery, human trafficking, duels, murder, political unrest, ethics, robbery & plundering, tax evasion, gambling.
Alcohol / Drug Use:
Drug abuse by teen character; alcohol is consumed by adults.
Reviewed By Beth