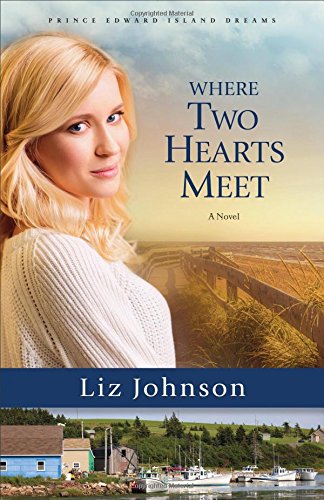 Publisher's Note:
Evocative Contemporary Romance Set in a Charming Inn on Beautiful Prince Edward Island

In her kitchen at the Red Door Inn, executive chef Caden Holt is calm, collected, and competent. But when her boss asks her to show off their beautiful island to impress a visiting travel writer and save the inn, Caden is forced to face a world much bigger than her kitchen--and a man who makes her wish she was beautiful.

Journalist Adam Jacobs is on a forced sabbatical on Prince Edward Island. He's also on assignment to uncover a story. Instead he's falling in love with the island's red shores and Caden's sweets.

When Caden discovers Adam isn't who she thought he was, she realizes that the article he's writing could do more than ruin the inn's chances for survival--it might also break her heart.

Readers will discover hope for the hurting, joy for the broken, and romance for the lonely at the enchanting Red Door Inn.
This book was sent to Compass Book Ratings for review by Revell
Where Two Hearts Meet
by Liz Johnson
Overall Review:
Where Two Hearts Meet is the second book in the Prince Edward Island Dreams series by Liz Johnson. As is apparent from the series title, the story takes place on Prince Edward Island in Canada. The setting is beautiful, and the book includes the serenity and calm one associates with this location.
The story itself takes place at the same Red Door Inn used in the first book. There are several characters from the first novel that play important roles here. The most important being the main female character, Caden Holt.
The personality of Caden somehow didn't feel right. The insecurities she is given seem a little too extreme for her situation. As a result of this, Caden feels too needy and annoying for this reader's taste. Some of the peripheral characters actually draw more interest.
As a whole, the plot was focused almost entirely on the romance developing between Caden and Alex. At first glance, there are a lot of gushy, mushy, or cheesy phrases used to build up the romantic tension; it overwhelms the senses at first. However, upon further contemplation, the descriptions are not unlike those used by newly in-love couples. Romance abounds here and delivers a nice relaxing read.
Review of an Advance Reader's Copy
Content Analysis:
Profanity/Language: None
Violence/Gore: Reference to a man having assaulted a woman; reference to characters having died in an explosion; report of people being murdered as victims of war crimes.
Sex/Nudity: Non-married characters kiss and embrace, a couple of these scenes involve caressing of faces and arms.
Mature Subject Matter:
Alcoholism, death of parents and friends, post-traumatic stress disorder, concentration camps, war.
Alcohol / Drug Use:
A character refers to another drinking alcohol; character discusses not enjoying the taste of beer or wines; a character indicates he is a recovering alcoholic.
Reviewed By Susan