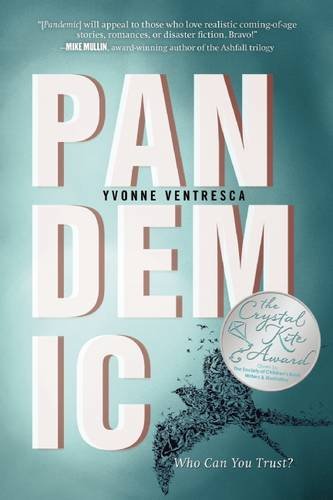 Publisher's Note:
The 2015 SCBWI Crystal Kite Winner for the Atlantic region!

Even under the most normal circumstances, high school can be a painful and confusing time. Unfortunately, Lilianna's circumstances are anything but normal. Only a few people know what caused her sudden change from model student to the withdrawn pessimist she has become, but her situation isn't about to get any better. When people begin coming down with a quick-spreading illness that doctors are unable to treat, Lil's worst fears are realized. With her parents called away on business before the contagious outbreak—her father in Delaware covering the early stages of the disease and her mother in Hong Kong and unable to get a flight back to New Jersey—Lil's town is hit by what soon becomes a widespread illness and fatal disaster. Now, she's more alone than she's been since the "incident" at her school months ago.

With friends and neighbors dying all around her, Lil does everything she can just to survive. But as the disease rages on, so does an unexpected tension as Lil is torn between an old ex and a new romantic interest. Just when it all seems too much, the cause of her original trauma shows up at her door. In this thrilling debut from author Yvonne Ventresca, Lil must find a way to survive not only the outbreak and its real-life consequences, but also her own personal demons.

Sky Pony Press, with our Good Books, Racehorse and Arcade imprints, is proud to publish a broad range of books for young readers—picture books for small children, chapter books, books for middle grade readers, and novels for young adults. Our list includes bestsellers for children who love to play Minecraft; stories told with LEGO bricks; books that teach lessons about tolerance, patience, and the environment, and much more. While not every title we publish becomes a New York Times bestseller or a national bestseller, we are committed to books on subjects that are sometimes overlooked and to authors whose work might not otherwise find a home.
This book was sent to Compass Book Ratings for review by Sky Pony Press
Pandemic
by Yvonne Ventresca
Overall Review:
Two sittings. That's all it took. Pandemic is such a fast-paced, thrilling, captivating story that once you pick it up, you won't want to put it down. I only did because sleep was non-negotiable.
Yvonne Ventresca has put together a fantastic book chronicling the experience of Lilianna. She's a normal high school girl, who has been through horrific circumstances over the last year. And now, a pandemic of the "blue flu" is sweeping through her town (and the country) leaving her on her own. Through it all, this well-developed character finds a strength and fortitude she didn't know she had. She deals with her demons, takes care of others in need, and maybe finds just a little bit of her old self creeping to the surface.
One of the things that makes this book so readable, is the perfect balance of detail. Many books dealing with pandemics (whether real or fiction) get so bogged down in the details of the illness itself that the reader loses the plot line. Not here. Ventresca provides just enough detail so that you are aware of the illness, but never lose sight of the storyline which is in the characters, not the illness itself.
The second perfection of balance is in the non-focus of Lilianna dealing with sexual assault by a teacher. The incident happens pre-book. And while the story alludes to the aftermath of dealing with a traumatic event, only sparse details are given as she recounts how she told her best friends and tells her boyfriend. The author could have so easily made this incident an overpowering part of the story. But she didn't. It was enough for the reader to understand Lilianna, but not be turned off by a horrific event.
Overall this book is a tour-de-force. A fantastic read for tweens, teens and adults alike and sure to be one that you can't put down.
Content Analysis:
Language: 4 religious exclamations, 13 mild obscenities, 6 scatological words.
Violence/Gore: Teen slaps another across face; teen falls over and hits table; corpse is found in rocking chair; corpses are found on floor; windows are smashed.
Sex/Nudity: Teens kiss (5 times), teens hug (4 times), references to being a virgin (2 times), reference to "hooking up" (2 times), recounting past incident of male teacher kissing and groping thighs and breasts (2 times) of female student.
Mature Subject Matter:
Death of family members and friends, sexual assault, ethics of healthcare rationing, epidemic, looting.
Alcohol / Drug Use:
Teens smoke throughout the book.
Reviewed By Beckie