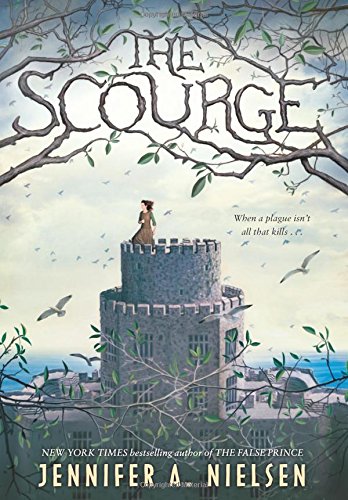 Publisher's Note:
As a lethal plague sweeps through the land, Ani Mells is shocked when she is unexpectedly captured by the governor's wardens and forced to submit to a test for the deadly Scourge. She is even more surprised when the test results come back positive, and she is sent to Attic Island, a former prison turned refuge -- and quarantine colony -- for the ill. The Scourge's victims, Ani now among them, can only expect to live out short, painful lives there. However, Ani quickly discovers that she doesn't know the whole truth about the Scourge or the Colony. She's been caught in a devious plot, and, with the help of her best friend, Weevil, Ani means to uncover just what is actually going on.

But will she and Weevil survive long enough to do so?

The Scourge is an explosively thrilling tale of adventure and intrigue, courage and heart from New York Times bestselling author Jennifer A. Nielsen.
This book was sent to Compass Book Ratings for review by Scholastic
The Scourge
by Jennifer A. Nielsen
Overall Review:
Looking for an interesting take on the dystopian genre with a strong female lead to go with it? The Scourge by renowned author Jennifer A. Nielsen is a fresh addition to this popular genre, that is also age appropriate for middle graders wanting to jump into this type of story. Nielsen mentioned in the acknowledgements where she first got the idea for this novel. She said it began with what she learned about leprosy and the stigma that surrounded that disease and then how that stigma lingered, long after there was a cure. What she said next best explains the storyline of the novel, The Scourge, which is rather hard to do without spoiling it. She said, "And it began to occur to me how easily a stigma like that could be manipulated if the wrong people were in power." That is exactly the problem the people of Keldan are facing in this novel and Ani, the heroine of the novel, is set on a course to change it.
Ani is one of the River People, a group of people that are treated worse than second class citizens and called 'grubs' by the town people. She has dealt with this stereotype her whole life and actually learned to work it to her advantage. However, to change things in Keldan she needs to set aside her biases as well as get others to do the same, so that they can work together to get to the bottom of the scourge that is threatening the people.
Ani, as a character, was a surprise. At first she was hard to like because she acted first and thought second and always seemed to be pushing back. It was enjoyable to read how she learned and grew, eventually becoming someone people would listen to and follow. By the end, she came across as an inspiring leader and a strong female who learns from her mistakes and recognizes the talents in others as well, so that she doesn't have to do everything on her own. That being said, this novel would appeal to both male and female. The storyline is compelling, but the depth of characters, not only in Ani but in the supporting cast as well, is what made reading The Scourge more enjoyable.
Other books by Jennifer A. Nielsen: The False Prince, The Runaway King, The Shadow Throne, Mark of the Thief, A Night Divided.
Content Analysis:
Profanity/Language: None
Violence/Gore: Character forcibly grabbed, tied up and has rag stuffed in mouth; character threatens another with a knife; character hit over the head, knocking him out and causing a bloody wound; characters has gun pointed at them; character slaps another in the face; character gets tied up and dragged along; character digs her nails into another person's arm, drawing blood; character pulls a knife and wields it in a threatening way towards other people; character has arm forcibly cut on purpose and has a poison forced into the wound; characters are told to find a person and then kill him; character threatens people that if they don't do what he wants he will shoot them; character hits another with an oar; character picks up another and throws them in the water; character is threatened with a beating by a wooden rod; secondhand account of people smashing windows in protest; people conspire to kill someone and have it look like an accident; person aims gun at a character in anger and threatens to shoot; character grabbed and hit over the head; character chained to a treadmill like machine and forced to climb it or risk falling to their death; character repeatedly hit with a rod on the back; character tries to hit another and guard stops them by grabbing their arm; character slaps another person; character dragged and forced into a pit with poisonous snakes; guard points gun at characters; character rams guard with a laundry cart; people jump a man and wrestle him to the ground in order to disarm him; 2 characters are led around in chains and threatened with execution; character grabs another and scratches open an old wound.
Sex/Nudity: 6 accounts of characters holding hands; female character falls asleep leaning against the shoulder of a boy; male character puts arm around the shoulders of a female character; 3 accounts of a boy and girl hugging; 2 accounts of boy caressing the arm of a girl; 2 accounts of a boy and girl kissing; boy caresses girl's cheek.
Mature Subject Matter:
Death, government control of people, disease, segregation.
Alcohol / Drug Use:
Poison used to control people.
Reviewed By Sally