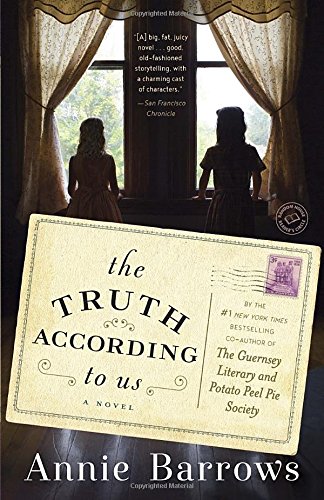 Publisher's Note:
NAMED ONE OF THE BEST BOOKS OF THE YEAR BY BOOKPAGE • From the co-author of The Guernsey Literary and Potato Peel Pie Society comes a wise, witty, and exuberant novel, perfect for fans of Lee Smith, that illuminates the power of loyalty and forgiveness, memory and truth, and the courage it takes to do what's right.

Annie Barrows once again evokes the charm and eccentricity of a small town filled with extraordinary characters. Her new novel, The Truth According to Us, brings to life an inquisitive young girl, her beloved aunt, and the alluring visitor who changes the course of their destiny forever.

In the summer of 1938, Layla Beck's father, a United States senator, cuts off her allowance and demands that she find employment on the Federal Writers' Project, a New Deal jobs program. Within days, Layla finds herself far from her accustomed social whirl, assigned to cover the history of the remote mill town of Macedonia, West Virginia, and destined, in her opinion, to go completely mad with boredom. But once she secures a room in the home of the unconventional Romeyn family, she is drawn into their complex world and soon discovers that the truth of the town is entangled in the thorny past of the Romeyn dynasty.

At the Romeyn house, twelve-year-old Willa is desperate to learn everything in her quest to acquire her favorite virtues of ferocity and devotion—a search that leads her into a thicket of mysteries, including the questionable business that occupies her charismatic father and the reason her adored aunt Jottie remains unmarried. Layla's arrival strikes a match to the family veneer, bringing to light buried secrets that will tell a new tale about the Romeyns. As Willa peels back the layers of her family's past, and Layla delves deeper into town legend, everyone involved is transformed—and their personal histories completely rewritten.
The Truth According to Us
by Annie Barrows
Overall Review:
Annie Barrows was the co-author of the beloved The Guernsey Literary and Potato Peel Pie Society, and while her stylistic hand is recognizable in The Truth According to Us--and will probably still appeal to Guernsey fans--this is a different book. (Incidentally, the cover of the paperback version is positioned to strongly appeal to Guernsey fans.)
The Truth According to Us is a heftier tome, weighing in at around 500 pages. It is more scattered in its approach, switching between three different characters: Jottie, Willa, and Layla. Willa's view is in first person and the other two are third person. Throw in letters from and to Layla, some foggy flashbacks, plenty of internal dialogue, and a few book/newspaper passages and the reader has a bit of a challenge in the continuity department. These elements are all jumbled together, sometimes back-to-back in a single chapter so it is an effort to adjust. It is a bit unclear whose story this is. Jottie's? Willa's? Layla's? In truth, it probably belongs to all of them. Although it isn't necessary to like all the characters, it was a struggle to find one that could be truly admired and didn't disappoint. (That said, Willa is probably the character that made the most sense.)
Where Ms. Barrow truly shines is in her first-rate dialogue and voicing. There are plenty of quirky characters and the book practically drips with nostalgic, small-town charm. The story was appealing, mainly because it was so unclear where it was going.
Although this reader enjoyed the book, she is still undecided about the resolutions to the many issues--although it was difficult to pinpoint exactly why. One was heavily telegraphed and maybe too pat; others seemed quite vague and not satisfactory; some seemed unrealistic--or was it too realistic?
Overall, a charming slice of life in Depression-Era South that was enjoyable, but not perfect. A recommended read for lovers of historical fiction and the eclectic character.
Content Analysis:
Profanity/Language: 49 religious exclamations; 45 mild obscenities; 12 religious profanities; 6 derogatory names; 4 scatological words; 2 anatomical terms; 1 F-word derivative.
Violence/Gore: Girl is hit by a bike resulting in an injury and "blood dripping down legs"; report of a legend about a historical figure cutting off the toe of his son with a sword; report of a whipping (general); report of death in a fire; report of arson; character jokingly thinks they want to "kill" someone; kid gangs feud by throwing things at each other, scuffling; report of kid coming home with a bloody nose; child shouts in anger that they will kill someone; strikers throw fruit and hit a person; accusations of murder and arson; man grabs a woman's arm roughly; report of a broken leg; report of someone injured in a fight; report of injury from fighting in WWII.
Sex/Nudity: Man says he wants to get a female character into his bed; several separate incidences of kissing, sometimes passionately; flirting; child observes her uncle and aunt kissing passionately; character often has flashbacks or romance from her youth; hints and innuendo about romance; innuendo; joke that someone is not the marrying type; tale/legend told of lovers (general); characters are attracted to each other; report that an unmarried couple are living like "man & wife"; innuendo about trying to get someone "into bed"; kissing neck; young couple makes out in movie theater (general); male enters female's room at night, lays on top of her and kisses her and hen leaves; female adjusts breasts; female is subject of unwanted advance on street; bathing (non-sexual); reference to whorehouse; characters are implied to have sex; brief scene where adults are in bed together after having sex (no explicit description of sex); character admires another's body; girl sees a woman in her father's dressing gown.
Mature Subject Matter:
The Great Depression, death, arson, emotional abuse, illegal activities.
Alcohol / Drug Use:
Adults smoke frequently (and sometimes compulsively); references to moonshine, whiskey, bootleggers, etc; an establishment is known as a bootlegger's; child asks if her father is a bootlegger; child buys liquor on behalf of elderly lady.
Reviewed By Cindy