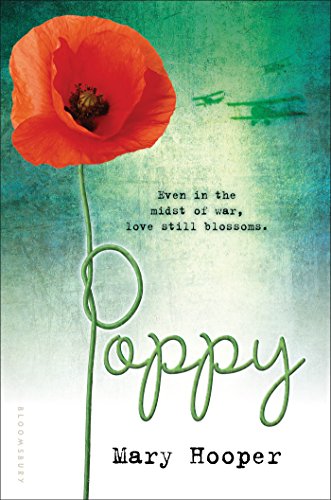 Publisher's Note:
England, 1914. Poppy is fifteen, beautiful and clever, but society has already carved out her destiny. There's no question of her attending more school; it's too expensive and unsuitable for a girl. Instead, Poppy will become a servant to the aristocratic de Vere family . . . and bury her feelings for their youngest son, Freddie. It doesn't matter that Freddie seems to have fallen just as hard for Poppy. He could never marry a girl like her.
But the set path for Poppy's life is irrevocably altered when it becomes clear that the war isn't going to be over soon. The chains of class, wealth, and her gender no longer matter--England needs every able bodied person to serve in battle in some way. Which, for Poppy, means volunteering on the front lines as a Voluntary Aid Detachment nurse. As she experiences what people are capable of--the best of humanity and the very worst--Poppy will find an unexpected freedom and discover how to be truly her own person.
This book was sent to Compass Book Ratings for review by Bloomsbury Children's Books
Poppy
by Mary Hooper
Overall Review:
At the beginning of World War I, Poppy is a fifteen-year-old who works for a wealthy family near London. As the war progresses all able bodies are needed to help the war effort so Poppy finds herself joining the aid by becoming a VAD (Voluntary Aid Detachment). With very little nursing experience but due to desperate need, Poppy is quickly trained and begins helping right away. Poppy is down-to-earth and kind but also terrified of what she will and does encounter in the hospitals. Amongst all the violence and devastation of war Poppy finds herself in an unlikely budding romance that keeps her guarded but hopeful.
As the first book of Mary Hooper's duet, Poppy grabs your interest right away. Hooper transports you back in time and you'll likely find yourself learning something new about the time period and those who aided in the war, due to the author's incredible attention to detail. From the exhaustion of the nurses to the embarrassment and depression the fallen soldiers are going through, everything feels so authentic; the characters and experiences really come to life. If you enjoy historical fiction, especially those set in the early 1900s, I highly recommend Poppy. I really look forward to seeing what happens in the sequel, Poppy in the Field.
Review of an Advanced Reader's Copy
Content Analysis:
Profanity/Language: 1 mild obscenity; 1 scatological word.
Violence/Gore: Many (34) brief incidents with very little detail including character joking about getting butchered during surgery; verbal threat; character is ready to fight in war; several secondhand reports and discussions of war; many secondhand reports of characters injured and killed during war.
Sex/Nudity: Several (15) brief incidents including flirting; kissing; holding hands; wounded soldier is naked because uniform had to be cut off; innuendo.
Mature Subject Matter:
War, severe injuries due to war (including mental health issues), death.
Alcohol / Drug Use:
Adults drinking alcohol a few times; military men receive beer, tobacco, and cigarettes as gift.
Reviewed By Jenny