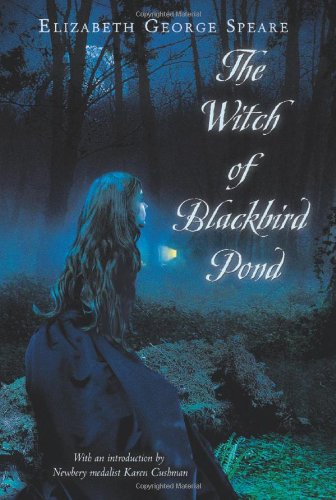 Publisher's Note:
Orphaned Kit Tyler knows, as she gazes for the first time at the cold, bleak shores of Connecticut Colony, that her new home will never be like the shimmering Caribbean island she left behind. In her relatives' stern Puritan community, she feels like a tropical bird that has flown to the wrong part of the world, a bird that is now caged and lonely. The only place where Kit feels completely free is in the meadows, where she enjoys the company of the old Quaker woman known as the Witch of Blackbird Pond, and on occasion, her young sailor friend Nat. But when Kit's friendship with the "witch" is discovered, Kit is faced with suspicion, fear, and anger. She herself is accused of witchcraft!


The Witch of Blackbird Pond
by Elizabeth Speare
Overall Review:
Literature at its finest, The Witch of Blackbird Pond is an unsurpassed coming of age tale that has survived the test of time, and will undoubtedly be found in the hands of readers for generations to come. Orphaned and alone, seventeen year-old Kit Tyler flees from her luxurious life in Barbados when faced with an unwanted marriage proposal. She arrives (unexpected) at the home of her only living relatives, in Puritan Conneticut. But the disquieted Puritan villiage is filled with suspicion, and Kit's headstrong, impulsive personality gets her in trouble and eventually leads to an accusation of witchcraft. Beautiful, intriguing, and completely unforgettable, The Witch of Blackbird Pond is a must-read. Readers will absolutely adore the slowly blooming (and often frustating) romance between Kit and Nat, which is sweetly satisfying. I first discovered this book as a teen, and wore the cover off my copy because I read it so often, and it still remains one of my cherished favorites.
Content Analysis:
This book, as a whole, is very clean and appropriate for older teens, young adults, and adult readers alike, and will appeal to all age groups. There is one very mild profanity that a character says out of frustration.
There was a mild instance of violence in which townspeople set fire to the house of a character thought to be a witch. A character swims in the river, and some people wonder if she is a witch. A character proclaims that he is proud that his ship does not carry slaves, and very briefly describes the conditions on a slave ship. There is a mild witch hunt, where a character is locked in a shed for a night. There is a brief, mild witch trial, in which the accuser claims to be "bewitched" by the accused. A passing mention is made of two women who were hanged for witchcraft in a nearby town. A quaker woman tells another character that she and her husband were branded on the forehead and flogged out of town (simply stated).
There is no sexual content at all.
Mature Subject Matter:
Mature themes are very mild and include talk of witchcraft (no details), a character fleeing an arranged marriage (simply stated), the strict religious lifestyles of Puritans and Quakers, and the animosity of the Puritans towards the Quakers.
Alcohol / Drug Use:
***
Reviewed By Melissa