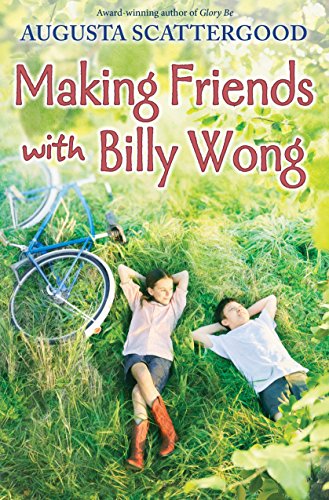 Publisher's Note:
Azalea is not happy about being dropped off to look after Grandmother Clark. Even if she didn't care that much about meeting the new sixth graders in her Texas hometown, those strangers seem much preferable to the ones in Paris Junction. Talk about troubled Willis DeLoach or gossipy Melinda Bowman. Who needs friends like these!

And then there's Billy Wong, a Chinese-American boy who shows up to help in her grandmother's garden. Billy's great-aunt and uncle own the Lucky Foods grocery store, where days are long and some folks aren't friendly. For Azalea, whose family and experiences seem different from most everybody she knows, friendship has never been easy. Maybe this time, it will be.

Inspired by the true accounts of Chinese immigrants who lived in the American South during the civil rights era, these side by side stories--one in Azalea's prose, the other in Billy's poetic narrative--create a poignant novel and reminds us that friends can come to us in the most unexpected ways.
This book was sent to Compass Book Ratings for review by Scholastic Press (A Scholastic Imprint)
Making Friends with Billy Wong
by Augusta Scattergood
Overall Review:
Azalea's life is turned upside down when her mom ships her off for the summer to help her injured grandmother, whom she hasn't seen in years. This sets the stage for the summer happenings of the novel Making Friends with Billy Wong by Augusta Scattergood. As naturally shy Azalea faces a summer among strangers in the small town of Paris Junction, she realizes she just might find some answers to questions she's had, like 'Why hasn't her grandmother bothered to keep in touch?' or 'Why did her mom run away as soon as she could from Paris Junction?' Throughout the summer not only does Azalea find her answers, but she learns some important lessons and learns a little about herself as she comes out of her shell.
Scattergood does a wonderful job of creating small town America in the South set in 1952 in this insightful novel, Making Friends with Billy Wong. She deals with the issue of racism, but not in the typical way, making the reader aware that other groups of people were dealing with it as well. As Azalea learns to come out of her shell, she also learns the valuable lesson that people aren't always what they seem and sometimes first impressions are wrong. As she overcomes her prejudices, the summer turns out to be one she will never forget, mostly because of the people she's come to call her friends.
Other books by Augusta Scattergood: Glory Be and The Way to Stay in Destiny
Review of an Advanced Reader's Copy
Content Analysis:
Profanity/Language: None. (Note: The terms 'Coolie' and 'Chink' are mentioned by the person they would have been directed towards.)
Violence/Gore: Characters have gravel thrown at them; vandalism done to a store because of the owner's race; character puts hands into fist and tells another to watch out; character wishes she could take a piece of glass and stab someone's eye with it because she is mad at that person; secondhand account of a fist fight.
Sex/Nudity: None
Mature Subject Matter:
Racism.
Alcohol / Drug Use:
None
Reviewed By Sally