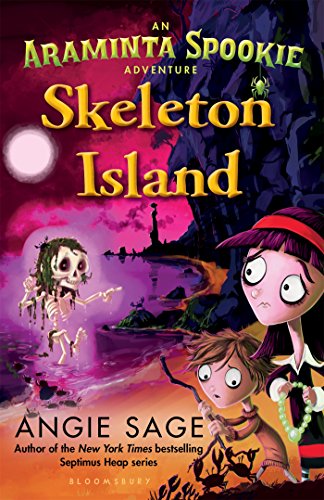 Publisher's Note:
Araminta and her best friend Wanda are going on a school trip to Skeleton Island, a place rumored to be the site of a scary ghost shipwreck. And when the pair is stranded overnight, they discover that there might be more truth to the island's name than they would have preferred.
Now some terrifying pirate skeletons are on the loose, and they want to take the girls down to Davy Jones's locker with them! Will Araminta, Wanda, and an unexpected friend be able to thwart the ghostly crew, avoid a watery fate, and maybe find some lost treasure to boot?
Told with her trademark wit and a dash of scary fun, along with black and white illustrations throughout, Angie Sage's latest tale is perfect for fans of Pseudonymous Bosch and Jacqueline West.
This book was sent to Compass Book Ratings for review by Bloomsbury USA
Skeleton Island (An Araminta Spookie Adventure)
by Angie Sage
Overall Review:
Araminta loves ghosts and ghost stories and she has a great one to tell about Skeleton Island. Little does she know that she, and her best friend Wanda, are about to discover just how true the story actually is.
Skeleton Island is another wonderful addition to the Araminta Spookie Adventure series by Angie Sage. Complete with ghosts, skeletons and pirates, it offers up all the spooky hijinks a fan of Munster-esque horror could want. Araminta is a smart and resourceful protagonist; a self-described "Chief Detective" whose quick thinking helps to get herself and Wanda out of their watery bind. Wanda, our detective's "Side Kick", is clever and sassy, if a touch innocent, and provides the perfect balance to Araminta. With strong characters, a fast pace, and goofy, spooky bad guys, Skeleton Island is a fun and endearing tale for readers of all ages.
Review of an Advance Reader's Copy
Content Analysis:
Profanity/Language: None
Violence/Gore: Tales of a shipwreck, with casualties; girls plan to knock down a skeleton; reference to drowning; references to pirates killing people; girl trips and falls; girl poked by skeleton; skeleton shoves girl; skeleton plan to make girls join their crew; reference to being marooned and going mad; reference to small fire.
Sex/Nudity: None
Mature Subject Matter:
Bullying, paranormal.
Alcohol / Drug Use:
None
Reviewed By Amberle