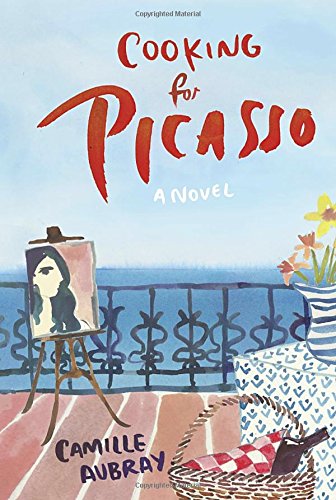 Publisher's Note:
For readers of Paula McLain, Nancy Horan, and Melanie Benjamin, this captivating novel is inspired by a little-known interlude in the artist's life.

The French Riviera, spring 1936: It's off-season in the lovely seaside village of Juan-les-Pins, where seventeen-year-old Ondine cooks with her mother in the kitchen of their family-owned Café Paradis. A mysterious new patron who's slipped out of Paris and is traveling under a different name has made an unusual request—to have his lunch served to him at the nearby villa he's secretly rented, where he wishes to remain incognito.

Pablo Picasso is at a momentous crossroads in his personal and professional life—and for him, art and women are always entwined. The spirited Ondine, chafing under her family's authority and nursing a broken heart, is just beginning to discover her own talents and appetites. Her encounter with Picasso will continue to affect her life for many decades onward, as the great artist and the talented young chef each pursue their own passions and destiny.

New York, present day: Céline, a Hollywood makeup artist who's come home for the holidays, learns from her mother, Julie, that Grandmother Ondine once cooked for Picasso. Prompted by her mother's enigmatic stories and the hint of more family secrets yet to be uncovered, Céline carries out Julie's wishes and embarks on a voyage to the very town where Ondine and Picasso first met. In the lush, heady atmosphere of the Côte d'Azur, and with the help of several eccentric fellow guests attending a rigorous cooking class at her hotel, Céline discovers truths about art, culture, cuisine, and love that enable her to embrace her own future.

Featuring an array of both fictional characters and the French Riviera's most famous historical residents, set against the breathtaking scenery of the South of France, Cooking for Picasso is a touching, delectable, and wise story, illuminating the powers of trust, money, art, and creativity in the choices that men and women make as they seek a path toward love, success, and joie de vivre.
This book was sent to Compass Book Ratings for review by Random House
Cooking for Picasso
by Camille Aubray
Overall Review:
Cooking for Picasso is compelling historical fiction. Written by award-winning author Camille Aubray, the novel is narrated by two strong female characters -- Ondine and her granddaughter Celine. The women's stories span two countries, several decades, and a multitude of family struggles. The novel also offers a fascinating look at Picasso and his tumultuous personal life, thanks to Aubray's intensive research. While the plot moves slowly at first, the story builds in speed and intensity, with cliffhangers in all the right places. Aubray writes with vibrant color and beautiful descriptions, sprinkling in French words and phrases. While some of the twists and turns were a bit far-fetched, the story is creative and entertaining. Cooking for Picasso is recommended for history and art lovers alike!
Content Analysis:
Profanity/Language: 20 religious exclamations, 24 mild obscenities, 7 derogatory names, 5 scatological words, 7 anatomical terms, 8 f-word derivatives.
Violence/Gore: A few implied occurrences of violence, including a fight between women; multiple secondhand reports of violence including murder, the Nazis, child abuse, suicide, soldiers killed in battle, and a character playing "The Knife Game"; a few brief scenes of violence including a character being punched; a scene involving destruction of property with no casualties.
Sex/Nudity: Multiple incidents of kissing; multiple sexual references including mistresses, prostitutes, a character being asked to remove her underwear; multiple implied or reported incidents of sexual activity including brothels, affairs, threat of rape, mistresses, and mythological stories and illustrations; a few incidents of touching areas normally covered by a bathing suit; several scenes of nudity with sexual innuendo including extended (a page) descriptions of several of Picasso's nude and/or sexual paintings, a man -- sleeping naked -- is described in detail; a few mature discussions regarding sex; an incident of sexual activity without explicit detail between adults; a brief scene of sexual abuse involving a child; a few brief explicit descriptions of sex and one extended description of sex.
Mature Subject Matter:
Domestic abuse, child abuse, sexual abuse, child born out of wedlock, war, death of family members, suicide, underage drinking, divorce, Hitler and the Nazis, the Mob, kidnapping threat, extramarital affairs, murder, bribery, homosexuality, nude and sexually suggestive artwork.
Alcohol / Drug Use:
Frequent drinking with meals and smoking; young adults are described in one scene as "tipsy", underage drinking; tourists get drunk.
Reviewed By Rachel