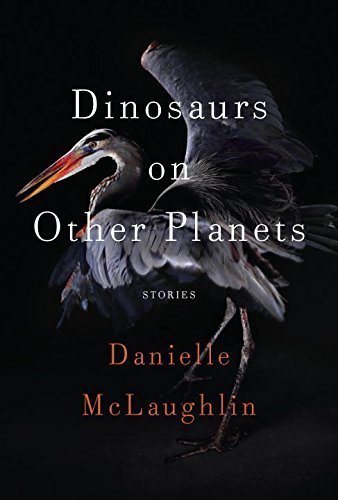 Publisher's Note:
For fans of Alice Munro, Anne Enright, and William Trevor comes a stunning debut collection from a deeply original writer and observer of love, betrayal, and turning points in ordinary peoples' lives.

In a raw seacoast cabin, a young woman watches her boyfriend go out with his brother, late one night, on a mysterious job she realizes she isn't supposed to know about. A man gets a call at work from his sister-in-law, saying that his wife and his daughter never made it to nursery school that day. A mother learns that her teenage daughter has told a teacher about problems in her parents' marriage that were meant to be private—problems the mother herself tries to ignore. McLaughlin conveys these characters so vividly that readers will feel they are experiencing real life. Often the stories turn on a single, fantastic moment of clarity—after which nothing can be the same.

Danielle McLaughlin is a writer of unparalleled precision and uncommon imagination. In her deft hands, ordinary people are transformed and surprising truths are suddenly understood.
This book was sent to Compass Book Ratings for review by Random House
Dinosaurs on Other Planets: Stories
by Danielle McLaughlin
Overall Review:
Have you ever read a short story, and wished that there was more to it? Maybe even a whole book? That is how I felt while reading Dinosaurs on Other Planets. I used to avoid short story collections, but have recently come to really enjoy them. If you have a penchant for a great collection of fiction, then you might want to check this book out.
The copy of this book that I read wasn't that attractive. It just had a plain blue and white cover, nothing to get excited over. Reading the title and description had me a bit more intrigued though. Diane McLaughlin has done a great job of dipping her toes into the vast expanse that is short story writing. Honestly, she had me at "dinosaurs". I'll admit I was just a bit disappointed at the fact that dinosaurs weren't very prevalent in this book, but I won't complain, because the abundance of interesting characters and storylines kept me satisfied.
I loved the exquisite language that McLaughlin used, and the way she carefully described scenes. I really can't pick a story out of this collection that I liked better than the others; they were all equally good. I don't think I have ever read such a compelling and fantastic collection of stories.
Review of an Advance Reader's Copy
Content Analysis:
Profanity/Language: 3 religious exclamations; 4 mild obscenities; 7 derogatory names; 1 scatological word; 1 anatomical term; 9 F-Word derivatives. Note: Use of "bloody" as a profanity not tallied.
Violence/Gore: A parent slaps their daughter in anger, and the mothers ring catches on the daughters skin, drawing blood; a young girl binds her feet for what she says is a school project, different passages are shared from ancient culture about the binding of feet and its purpose; a parent is reported to have died; cuts on a woman's arms are mentioned; a character is mentioned to be terminally ill; a wrecked ship is reported with passengers having drowned; a dead sea; with an injury is seen by a character and briefly mentioned.
Sex/Nudity: A mature sexual discussion is had; a minor-aged character is mentioned to be sexually active with their teacher; adults kiss; a brief non-descriptive sexual scene occurs, it is implied that two adults had intercourse, and nudity is mentioned with no detail.
Mature Subject Matter:
Cancer, death, personal crises, terminal illness, student-teacher sexual relationship.
Alcohol / Drug Use:
Adults drink wine; cigarettes are mentioned to be smoked; vodka is offered to an adult; beer is served to adults; whiskey is drunk.
Reviewed By Lydia