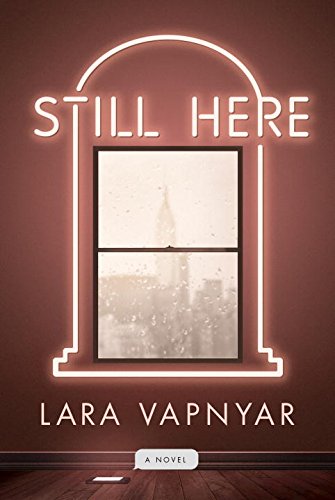 Publisher's Note:
A profound and dazzlingly entertaining novel from the writer Louis Menand calls "Jane Austen with a Russian soul"

In her warm, absorbing and keenly observed new novel, Lara Vapnyar follows the intertwined lives of four immigrants in New York City as they grapple with love and tumult, the challenges of a new home, and the absurdities of the digital age.

Vica, Vadik, Sergey and Regina met in Russia in their school days, but remained in touch and now have very different American lives. Sergey cycles through jobs as an analyst, hoping his idea for an app will finally bring him success. His wife Vica, a medical technician struggling to keep her family afloat, hungers for a better life. Sergey's former girlfriend Regina, once a famous translator is married to a wealthy startup owner, spends her days at home grieving over a recent loss. Sergey's best friend Vadik, a programmer ever in search of perfection, keeps trying on different women and different neighborhoods, all while pining for the one who got away.

As Sergey develops his app—calling it "Virtual Grave," a program to preserve a person's online presence after death—a formidable debate begins in the group, spurring questions about the changing perception of death in the modern world and the future of our virtual selves. How do our online personas define us in our daily lives, and what will they say about us when we're gone.
This book was sent to Compass Book Ratings for review by Hogarth
Still Here: A Novel
by Lara Vapnyr
Overall Review:
Upon picking up this book, I was surprised that I had never heard of Laura Vapnyar before. After all, she seems to know what she is doing when it comes to writing compelling literary fiction. Perhaps I just passed her by, or maybe her previous work hasn't received much praise; I suppose I will have to give a few of her other books a try to find out.
To me, simply looking at this book hints that it will be a good read. The cover is quite nice to lay eyes on. Digging deeper and actually cracking the book open, revealed that the story inside, one that is very applicable to present-day life as we know it, is even more beautiful than the book's cover. Immediately, I was thrown into a friendship and an argument. At first the argument seemed silly, but after a little while I began to sympathize with the four charming main characters.
Occasionally I would get characters mixed up, or forget who was in a relationship with whom, but for the most part Sergey, Vika, Vadik, and Regina all played roles that were easily identified. I especially appreciated how timely Still Here is, and how it brings up the topic of social networking, apps, and the whole world of online "life". What happens to us when we are gone? Or, more importantly in the lives of the four friends portrayed in this novel, what happens to our online presence once we are gone?
Review of an Advance Reader's Copy
Content Analysis:
Profanity/Language: 1 religious exclamation; 5 mild obscenities; 2 derogatory names; 10 scatological words; 2 anatomical terms; 13 F-Word derivatives.
Violence/Gore: Abortion is mentioned; an accident with a ferry crashing into a pier is mentioned to occur; a character's father is mentioned to have died; a man is described to have a terminal illness; a mother hits her son twice in a moment of anger; a character is mentioned to be shot and killed; suicide is mentioned; abortion is mentioned.
Sex/Nudity: A character kisses someone on the ear; a sexual encounter is mentioned with no detail; a woman is mentioned to touch a man sexually; a character mentions that they do not like to be seen nude; sex is discussed between adults; a man buys condoms and sex is implied; characters mention having sexual feelings for each other; masturbation is mentioned in one brief scene; adults kiss briefly; an adult couple touches each other sexually.
Mature Subject Matter:
Divorce, personal crises, cancer, abortion, suicide.
Alcohol / Drug Use:
Adults drink vodka; champagne is offered to adults; adults drink wine in several different scenes; a drug overdose is mentioned.
Reviewed By Lydia