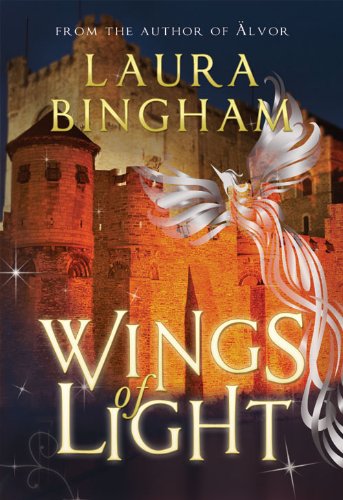 Publisher's Note:
Sixteen-year-old Erin and her twin brother, Bain, have recently become immortal elves - but the search for their mother has just begun. With new information that their mother may be alive, Erin desperately seeks to bring her back home. But when old enemies threaten her quest, Erin must turn to new friends for help and learn that some magic is better left unexplored.
This book was sent to Compass Book Ratings for review by Cedar Fort
Wings of Light
by Laura Bingham
Overall Review:
Wings of Light is a great example of a sequel that is even better than its predecessor! At the end of Älvor, Erin and Jesse have just returned home to spend Thanksgiving with their grandfather after spending three months in the kingdom of the elves. We pick up our story with the twins beginning to wonder more about their mother. Who was she? Why don't they know more about her? They discover quickly that she was an elf—and an important one at that. But if she was an elf, then she was immortal. She could still be alive, so where is she? The adventure and mystery begins and we are taken on a wonderful magical journey. I love the characters so much. The relationship between Erin and Bain is lovely, as always. It's so refreshing to have such a noble theme as that of family unity and giving your all to the ones you love. I absolutely love Pulsar—a dragon with wisdom and a sense of humor! The ambiguity of Carbonell adds a fantastic touch as you're not sure whether to trust him, and with that uncertainty, you start to mistrust others which brought some extra depth to the story. The budding romance between Erin and Joel manages to stay sweet and meaningful without being cheesy or rushed. There was a depth to it as Joel establishes himself as a true and respectful gentleman. All new super powers are introduced to Erin and Bain. It's so fun to escape reality and imagine being completely immortal with amazing powers of speed, magic, and grace! With flying dragons, instant transportation, mermaids, magical balls, sweet romance, epic battles between good and evil for control of the kingdom—what's not to like? I can't wait to read more!
Content Analysis:
This book doesn't disappoint in its level of cleanness! There are a few battles that take place where some creatures die by fire and there is sword fighting, but it's well done without any gore. I put the theme as mild because of the issues of trusting others and yourself, dealing with hardships and unknowns, and some scary creatures.
Mature Subject Matter:
***
Alcohol / Drug Use:
***
Reviewed By Emily