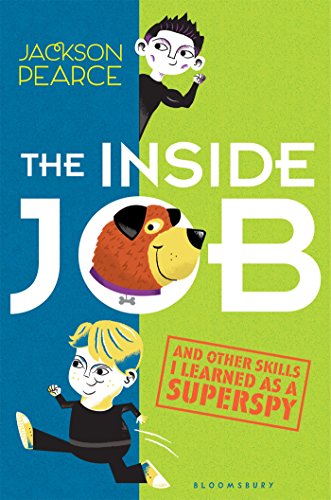 Publisher's Note:
Hale, who turned double-agent against the corrupt spy organization he was raised in, knows his super-spy parents can't come home until the Sub Rosa Society is neutralized--and that he and his friends are all that's standing between SRS and their worldwide crimes. So Hale wants to hit the bad guys where it hurts: their bank account.
Hale and his allies all travel to Switzerland and discover that this won't be a smash-and-grab job like they expected. SRS doesn't have any actual money that can be taken--it's all hidden in secret digital accounts. Oh, and some super heavy gold bars. To take them down, Hale's crew will have to undo SRS's crimes and get to the inside man at the bank, all while artfully evading SRS's notice.
There's plenty of action, a big fluffy show dog, a nefarious clown, and, as readers expect from this series, all kinds of comedic, high-stakes adventure.
This book was sent to Compass Book Ratings for review by Bloomsbury USA
The Inside Job (and Other Skills I Learned as a Superspy)
by Jackson Pearce
Overall Review:
Hale may have found the courage to escape from the Sub Rosa Society, the spy organization he was born into, with his sister and best friend but now he must try and reconcile who he is with who they groomed him to be.
The exciting sequel to The Double-Cross (and Other Skills I learned as a Super Spy) Jackson Pearce delivers again with The Inside Job (and Other Skills I Learned as a Super Spy). In it the reader reconnects with some familiar characters: Kennedy, Walter and Agent Otter, as well as some new allies that round out Hale's band of spies as they try and re-establish The League and take down SRS for good. Pearce's wacky blend of character development and espionage antics blend into wonderfully engaging story. Part Spy Kids, part Burn Notice, and 100% fresh, the reader is left feeling not only entertained but stangley educated after the final period dots the page.
Review of an Advanced Reader's Copy
Content Analysis:
Language/Profanity: 2 religious exclamations.
Violence/Gore: Character kicks in door; kids trapped in net; character hit in nose; several references to spy organizations planning to "Off" people; reference to character burning his eyebrows off; character falls; character joking refers to smothering himself; character joking requests to be knocked out; group falls to the ground; character worries organization will kill him; references to kids being kidnapped; character references starting a fire; characters crash golf cart; girl pins boy to wall; reference to parental death; reference to girl kicking boy; several instances of a dog knocking people to the ground and sitting on them; character worries man might slap another man; character tells another boy he may suffocate; character kicks in another door; man knocks out another man; man gives another man a friendly punch; man nearly punches another man; animal eats through a wall; boy wants to hit man; character nearly falls off truck; girl threatens to "kill" boy; character trampled by animal.
Sex/Nudity: None
Mature Subject Matter:
Family, illegal activity, loyalty, self-image, death, right and wrong, separation.
Alcohol / Drug Use:
A few references to adults drinking alcohol.
Reviewed By Amberle