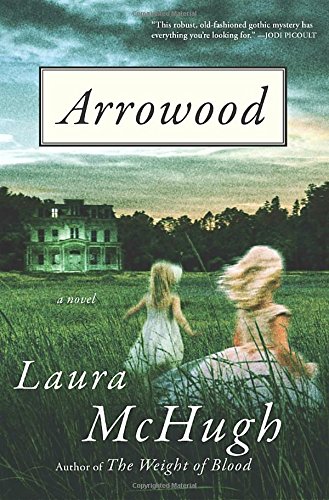 Publisher's Note:
A haunting novel from the author of The Weight of Blood about a young woman's return to her childhood home—and her encounter with the memories and family secrets it holds

Arrowood is the most ornate and grand of the historical houses that line the Mississippi River in southern Iowa. But the house has a mystery it has never revealed: It's where Arden Arrowood's younger twin sisters vanished on her watch twenty years ago—never to be seen again. After the twins' disappearance, Arden's parents divorced and the Arrowoods left the big house that had been in their family for generations. And Arden's own life has fallen apart: She can't finish her master's thesis, and a misguided love affair has ended badly. She has held on to the hope that her sisters are still alive, and it seems she can't move forward until she finds them. When her father dies and she inherits Arrowood, Arden returns to her childhood home determined to discover what really happened to her sisters that traumatic summer.

Arden's return to the town of Keokuk—and the now infamous house that bears her name—is greeted with curiosity. But she is welcomed back by her old neighbor and first love, Ben Ferris, whose family, she slowly learns, knows more about the Arrowoods' secrets and their small, closed community than she ever realized. With the help of a young amateur investigator, Arden tracks down the man who was the prime suspect in the kidnapping. But the house and the surrounding town hold their secrets close—and the truth, when Arden finds it, is more devastating than she ever could have imagined.

Arrowood is a powerful and resonant novel that examines the ways in which our lives are shaped by memory. As with her award-winning debut novel, The Weight of Blood, Laura McHugh has written a thrilling novel in which nothing is as it seems, and in which our longing for the past can take hold of the present in insidious and haunting ways.
This book was sent to Compass Book Ratings for review by Random House
Arrowood: A Novel
by Laura McHugh
Overall Review:
Somehow I didn't put together the fact that the author of Arrowood is also the author of one of my favorite books I read last year (or was it the year before?), The Weight of Blood. Once I realized why Laura McHugh's name sounded so familiar, I was ecstatic to read this book. It turns out, I had good reason to be.
Arrowood is everything a second novel should be and more. I was sucked into the story of a young woman come home to her family's mansion in Iowa, and when the end came, I wanted to continue living in the world that Arden, the protagonist, resides in. McHugh takes some liberties when she is describing Iowa, I am sure, but it still gave me a sense of importance, that I was reading a book and recognized some of the places that were mentioned.
I quite enjoyed the work the author put into describing the antique homes that are mentioned in this novel. She also did a wonderful job of weaving this story so I had no idea what was going to happen next. There were several times during the reading of this book where everything seemed so clear to me, and then something would happen to make me question if I really knew what was happening.
I'm not sure if this book is to be categorized as a mystery. (I once had someone tell me that mysteries must have a murder involved in order to be cataloged as such in a library.) It doesn't really matter though, because if you enjoy mysteries, or really entertaining fiction, I can almost assure you that this book will keep you reading way past your bedtime.
Review of an Advance Reader's Copy
Content Analysis:
Profanity/Language: 5 religious exclamations; 3 mild obscenities; 1 derogatory name; 2 scatological words; 2 anatomical terms; 4 F-Word derivatives.
Violence/Gore: A father is reported to have keeled over and died unexpectedly; two young girls are kidnapped and it is often presumed that they are dead; a man is mentioned to have kidnapped a girl and dumped her body somewhere; multiple mentions of kidnappings and murders are made; saints are referred to and a character recalls looking at a book as a child and seeing how they came to sainthood, many of which involved being maimed or killed; a character recalls that someone they knew was killed in Vietnam; a creepy scene occurs where children use a Ouija board to try to communicate with spirits and dead relatives in an old house; a man is mentioned to have been violent, shooting his wife and then hanging himself; a young woman recalls breaking a window with her fist which causes her to bleed and eventually scar; a brief scene occurs; an old house where a character falls into a hole in the floor and thinks she sees something scary but she is not sure what; a man attacks a woman and a brief scuffle ensues, the woman hits him with a shovel in self-defense; a character finds the remains of her loved ones in an unexpected place in one brief slightly creepy scene; a character finds out a sad history in her family of two children being drowned by a parent.
Sex/Nudity: A sex offender is mentioned to take pictures of young children while he is on his lunch break; a married man kisses a woman who is not his wife, his young daughter observes it; a man and a woman are both speculated to have been unfaithful to their marriage; an unmarried couple sleeps together, sex is implied; an adult teacher kisses and undresses and makes love with his female college student (who I believe was of the age of consent), and pursues a relationship with said student.
Mature Subject Matter:
Divorce, suspected murder, kidnapping, missing children, extramarital affairs, gambling, mention of public urination, communication via a Ouija board, runaway child, personal crises, murder (parent of child), drug abuse.
Alcohol / Drug Use:
Cigarettes are smoked by adults; an adult purchases cheap wine for a dinner; a father gives his daughter (a minor) a small drink of wine; a cigar is mentioned to be smoked; a woman self-medicates with liquor and prescription drugs.
Reviewed By Lydia