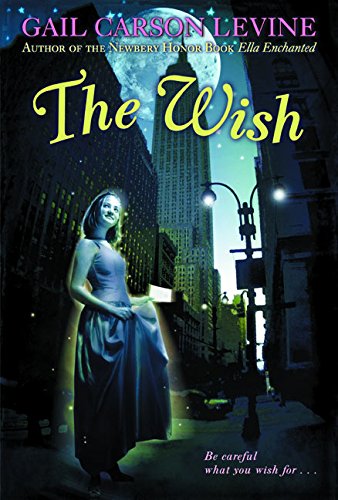 Publisher's Note:
There's nothing wrong with Wilma Sturtz. She's perfectly nice. But nobody cares about nice at Claverford, her middle school. Wilma is left out, forgotten, ignored -- until she meets an extraordinary old lady who grants a wish: for Wilma to be the most popular kid in school. Presto! Everything changes. Now Wilma has more best friends than she can keep track of and forty dates to the Graduation Night Dance; and someone is writing her love poetry. What more could she want? Nothing! But will it last? How can Wilma make sure she is never unpopular again?
From Gail Carson Levine, author of the Newbery Honor book Ella Enchanted, this modern-day fairy tale shows a very real girl in a very unusual predicament, and along the way it reveals some painful truths about whether or not we really want to be liked for who we are.
The Wish
by Gail Carson Levine
Overall Review:
Gail Carson Levine, author of Ella Enchanted, crafts another charming tale: The Wish. I've yet to read a book of Levine's that I didn't love and she delivers again. While this is a story of a fourteen-year-old, it's funny and heart-warming in a way that older audiences will enjoy as well. Wilma, the protagonist, has a desperate wish that she imagines will make all her dreams come true and make her life so much happier. As with all wishes, there's bound to be a catch or two and there's no exception to that in this story. The "catches" add to the suspense and complexity of the story. Wilma is a great character, you can't help but love her because she's so down-to-earth and kind. We also get to see many of the characters around her from a few different perspectives, which adds depth to an otherwise shallow character. If you enjoyed Janette Rallison's My Fair Godmother you need to check out The Wish.
Content Analysis:
Profanity/Language: None
Violence/Gore: A few (6) brief incidents including character jokes about wishing to be dead; character felt like a knife stuck in throat while sick; character jokes about a sculpture coming to life and killing people; reference to people dying; character pinches self; character falls and gets slightly hurt at skating rink.
Sex/Nudity: Several (11) brief incidents including holding hands; kissing; male character offers to let female character sit on his lap; dog sniffs person's crotch; character comments that another character is "sexy".
Mature Subject Matter:
Loss of job/unemployment, cheating on school tests.
Alcohol / Drug Use:
Character kicks beer bottle at the park.
Reviewed By Jenny