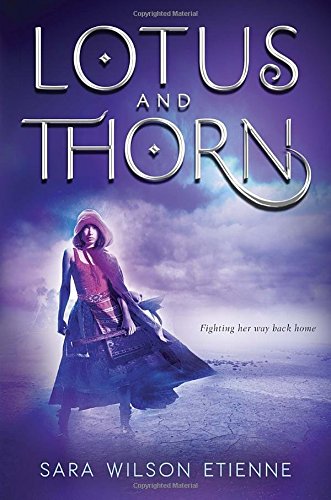 Publisher's Note:
A thrilling fantasy adventure perfect for fans of Tamora Pierce and Sarah Maas

Ravaged by a plague known as Red Death, the planet Gabriel, a former colony of Earth, is a barren wasteland. Since being abandoned by Earth 500 years ago, resources are scarce and life is cheap. To stay alive, the survivors, the Citizens, scavenge the remains of a now dead city, trading for food with the resource-rich Curadores, the only other survivors on Gabriel. Every old computer, every piece of wire, every scrap of metal counts. To steal is the ultimate sin. So when tough-as-nails seventeen-year-old Leica is caught doing just that, she's exiled and left to the mercy of Gabriel's unforgiving desert for the rest of her life.

While in exile, Leica discovers a mysterious shuttle, which may not only lead her home, but even more impossible—reestablish contact with Earth. Then Red Death rears its head again, killing her entire work crew, leaving Leica all alone until a handsome Curador offers her refuge in the Dome—the only place on Gabriel untouched by Red Death, where a decadent and sultry life awaits. But there's a catch: Leica can only enter the Dome as his concubine—his Kisaeng. When a rogue group of Citizens see their chance for revolution in Leica's good fortune, she finds herself unraveling a deadly mystery with chilling answers to the true origin of Red Death and the reason Earth really abandoned them so long ago.

A richly imagined fantasy in the vein of Tamora Pierce, Lotus and Thorn, is a magnificent, epic adventure.
This book was sent to Compass Book Ratings for review by G. P. Putnam's Sons
Lotus and Thorn
by Sara Wilson Etienne
Overall Review:
I love books where the ending takes you completely by surprise. You are marching along, thinking you know what is going to happen, and then there it is. That pivotal twist in the plot that leaves you scurrying through the remaining pages trying to figure out why you didn't see that coming and taking in every detail of the new twist. Lotus and Thorn is just one of those books.
The setting is a bit space age-y. Think Star Trek mixed with Oblivion. The characters are made up of two "classes" or "races" that are largely split between the have-s and have-nots. The Curadores live in a Dome and provide sustenance for the people of Pleiades who reclaim metal and other needs to barter with the Curadores.
This book is quite well-written. The descriptions of the places and people are exceptionally detailed and creative. The characters are multi-faceted and truly read just like humans in the real world, complete with complex emotions, personalities, and conflicts. The author never strays from being true to the time period and place in which this story is set.
This book deals with some tough and somewhat controversial topics (see mature subjects and content review below), and thus, the higher age recommendation.
Overall Lotus and Thorn is a good read, especially for those into the science fiction, dystopian genre.
Review of an Advance Reader's Copy
Content Analysis:
Language: 4 religious exclamations; 30 mild obscenities; 3 derogotory names; 1 scatological word,;2 anatomical terms; 2 f-word derivatives.
Violence: Blood drips from eye-sockets, eyes or mouths due to illness (several times); characters spar and fight resulting in cuts, abrasions, bruise and scratches (nine times); woman is pulled by hair; dying woman's throat cut (per her request); bodies burned on pyre (three times); character stabbed with knife; men beat women (no explicit detail); corpses found in abandoned shuttle; character holds knife to another's throat as threat; bird scratches arm of human and nips at noise; train wreck resulting in cuts, scrapes and death of one person; man grabs female's wrist painfully; vials of blood and medical procedures in lab (tubes in and out of bodies); man snaps bird's neck; character enters lab full of bodies in various states of illness with open sores, blood oozing; tale is told where sisters are chopped into bits; extended scene (three pages) of graphic physical abuse of woman, she is smacked, thrown across room, splits lip, has her hand crushed in man's grip, and is lifted into air and dropped from height; robotic bird is smashed and mutilated; character recounts story of how he infected people with a vaccine that ended up killing them; plane explodes killing two people aboard; extended final battle scene (covers 42 pages) including hand-to-hand combat with sticks, rods and knives, bombing of buildings and railways, ground covered in blood, gaping wounds to stomach of both man and animal, explicit detail of tracking device being cut out of woman's shoulder, dead body used as a bomb, house set on fire, bodies in piles or lying dead in the streets.
Sex/Nudity: Theme of prostitution throughout (Kisaengs); character undresses and surveys self in mirror with moderate detail (three times); character recalls first time having sex (no detail), couple is seen kissing by others; characters kiss (8 times); characters hold hands (once); characters hug (twice); characters spend night together and sex is implied (three times); male character undresses female character and touches breasts and inner thighs; Curadores maintain a harem and women sleep with the men to garner favor or rank (which is by definition prostitution).
Mature Subject Matter:
Socioeconomic inequality, death of family members and friends, societal worth of non-perfect people (ethics), homosexuality, war, harems/prostitution, human experimentation (prevalent), biological warfare.
Alcohol / Drug Use:
Widespread drinking of type of alcohol (homemade spirits).
Reviewed By Beckie