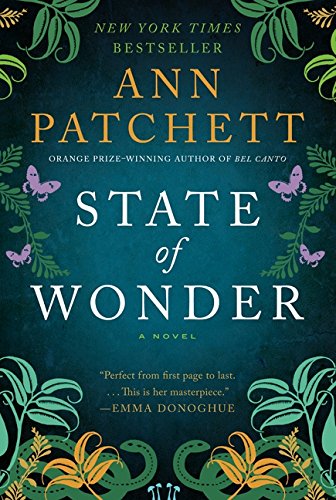 Publisher's Note:
Award-winning, New York Times bestselling author Ann Patchett returns with a provocative and assured novel of morality and miracles, science and sacrifice set in the Amazon rainforest. Infusing the narrative with the same ingenuity and emotional urgency that pervaded her acclaimed previous novels Bel Canto, Taft, Run, The Magician's Assistant, and The Patron Saint of Liars, Patchett delivers an enthrallingly innovative tale of aspiration, exploration, and attachment in State of Wonder—a gripping adventure story and a profound look at the difficult choices we make in the name of discovery and love.
State of Wonder
by Ann Patchett
Overall Review:
While this book has redeeming qualities, it is also currently sitting in my trashcan, hence the 3 out of 5 rating.
The writing is fantastic. It is imaginative and requires the brain to think outside the box.
However, the plot--well, let me put it this way--you better be completely onboard with infidelity if you choose to read this book, because if you happen to be completely against it, you will probably not enjoy State of Wonder. It is like a personal betrayal to pick up a book and love it and love it and love it--and then find it completely goes against your belief system. It was racking up to be a perfect book, but then came the whammy of treating infidelity like it was commendable.
However, if you have no qualms about infidelity, then proceed with this book. It does deserve some credit for the writing style. Ann Patchett is good at what she does, but frankly I just believe she could have put her talents to better use. The book could have been perfect.
Content Analysis:
Profanity/Language: 24 religious exclamations; 5 mild obscenities; 1 derogatory name; 1 anatomical term; 3 f-word derivatives.
Violence/Gore: A doctor makes a mistake in a procedure and brutally injures a newborn baby (disturbing and a bit graphic); "murdering Christian missionaries" are referenced; an adult describes an event where a child accidentally wounded another child, a bit disturbing; an adult talks about snakes biting people; an adult tells how a man committed suicide; cannibals are discussed; a long frightening and gory scene where five people fight against an anaconda; a doctor does a C-section, and there is a lot of graphic detail; a couple of people get disturbing injuries, only briefly described; people shoot arrows at a couple of people, meant as a threat.
Sex/Nudity: A man and woman are implied that they sometimes sleep together; a man and woman kiss; two adults lie down together; two adults are implied to have sex; two adults kiss; an adult kisses another adult's fingers; a sexual reference; a man rests his hand between a woman's thighs; a man touches a woman inappropriately without her permission (but it is sort of a cultural difference, and not intended as an assault); men watch a woman change clothes; a discussion about a man cheating on his wife; a discussion about a man and his infidelity while under the influence of drugs; a reference to a memory of a man and woman sleeping together; two people kiss a couple of times; a sex scene, not graphic, mostly describes emotions however.
Mature Subject Matter:
Marriage infidelity, witch doctors, a deaf child, abandonment, death of family member, divorce.
Alcohol / Drug Use:
Adults drink alcohol on multiple occasions; adults smoke marijuana; the adults and children of an Amazonian village take hallucinogens during their rituals, and these hallucinogens are repeatedly brought up throughout the book.
Reviewed By Amber