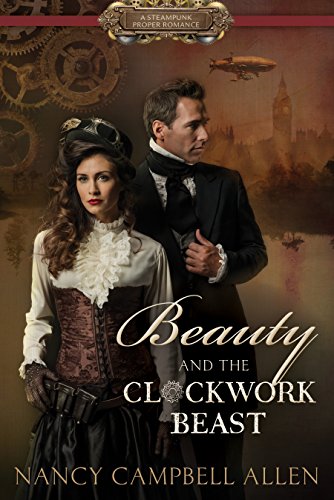 Publisher's Note:
Just like in the classic"Beauty and the Beast, "this Steampunk Romance features an unlikely love story.
The Lord of Blackwell Manor, Miles, is plagued by a family curse that changes him into a shape-shifting wolf every month during the full moon. Lucy-a smart, attractive, and well-respected botanist-travels to Blackwell Manor to take care of her sick cousin, Kate, who is married to Miles's younger brother. For Lucy, the trip is a welcomed respite from her work and recent discovery-a breakthrough serum that could eliminate the scourge of vampires from London.
However, Lucy finds more than she bargained for when she arrives at the Manor. Miles, who is brash and inhospitable, does not take kindly to visitors. He is still unsettled by the mysterious death of his newlywed wife. And then there's Marie, Miles's sister, who was attacked and murdered just weeks earlier. Miles is horrified to think that he might be to blame for the deaths.
And who is the ghost that haunt the halls? Lucy is convinced that the death of Miles's wife and sister-as well as her cousin's mysterious illness-are tied together, but how?
Lady Charlesworth has her eye on inheriting Blackwell Manor for her family. Could her daughter, Candice, or her son, Arthur, have had a hand in the mysterious deaths? The clues make a vampire suspect highly likely.
During her investigation, Lucy finds herself caring deeply for Miles, but he fights to keep his distance in order to protect Lucy from his family's secret. And, yet, he feels attracted toward the woman who is able to look past the fearsome-looking scar that has marred his handsome face.
With no other option, Miles and Lucy must work together if they are to find the answer to the mysteries at the Manor. But that's not all Lucy wants to solve. There's a deeper mystery behind Miles. Can she solve that, too? Ultimately, she must decide if she can love the man, beast and all.
Also includes a 15-page bonus prequel novelette, Marie s Story. Marie Blake is Miles s younger sister, and her untimely death begins the story of "Beauty and the Clockwork Beast. "Set on the eve of her murder and told in the first-person from her point-of-view readers will get to her know her as a person, and not just as the ghost who haunts the halls of Blackwell Manor. The story provides greater depth and more personal details to one of most memorable characters in the novel.
This book was sent to Compass Book Ratings for review by Shadow Mountain
Beauty and the Clockwork Beast
by Nancy Campbell Allen
Overall Review:
Being a huge fan of fairy tale twists, Beauty and the Clockwork Beast was quite compelling. After discovering it was a steampunk novel and a proper romance, I was dying to get a copy! In addition to being the perfect genre, the cover is stunning so there were high expectations set even before the book was opened.
There is plenty of commonality between this story and the original to be recognizable, and yet Allen transformed it into her own stunning piece. She created some diverse characters who are interesting and throw the reader more than a few curve balls. I generally steer clear of ghost and vampire novels, but even with both making appearances, Allen managed to make them an important part of the story without making it completely about them. She also made them less creepy than one might expect, so readers who can't typically stomach them will likely be fine in this case.
Steampunk novels can be so fun as the reader sees what modern gadgets and technologies authors choose to include in their stories; the things Allen incorporated really added to the intrigue and excitement of the book. Besides what has already been mentioned there is mystery, action, and suspense that will have the reader on the edge of their seat. Truly not enough can be said about this novel to describe how fantastic it is. I've never read any of Nancy Campbell Allen's work prior to this but if her other novels are even remotely as good as this one, they must all be read as well.
Those who enjoyed Alicia Buck's Out of the Ashes or Sharon Cameron's A Spark Unseen will likely enjoy Beauty and the Clockwork Beast.
Review of an Advance Reader's Copy
Content Analysis:
Profanity/Language: 1 mild obscenity.
Violence/Gore: Many (26) brief incidents including character held self back from hurting another; character wishing for death; character warns another of potential death; characters talking about vampires sucking blood; secondhand report of vampire killing someone and character sees that body; secondhand reports of death and murder; secondhand report of animals getting killed and character attacked; character thinks about what vampires do; reference to war; tapestry of wolf and prey; secondhand report of shapeshifter hurting character badly; male character kneed in groin; ghost appears a few times, one of which times it is bloody; character bit by vampire; character kills animal; character pushed into fire and attacked by a vampire; character holds another by neck and throws character who sustains injuries; character gets poisoned; character hurt badly, suspected dead; character kicks another; characters get in fight; fantasy character killed.
Sex/Nudity: Many (29) brief incidents including kissing; holding hands; dancing; touching arm and face; character carries another; playing with hair; touching thigh and back; hugging; arm around; two incidents when shapeshifter is naked during transformation.
Mature Subject Matter:
Murder and attempted murder, ghosts, vampires.
Alcohol / Drug Use:
Character thinks about drinking; a few incidents when adult character drinks alcohol.
Reviewed By Jenny