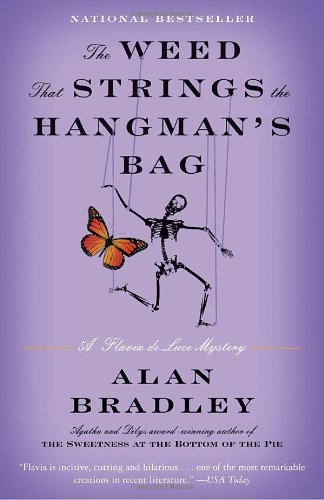 Publisher's Note:
Flavia de Luce, a dangerously smart eleven-year-old with a passion for chemistry and a genius for solving murders, thinks that her days of crime-solving in the bucolic English hamlet of Bishop's Lacey are over—until beloved puppeteer Rupert Porson has his own strings sizzled in an unfortunate rendezvous with electricity. But who'd do such a thing, and why? Does the madwoman who lives in Gibbet Wood know more than she's letting on? What about Porson's charming but erratic assistant? All clues point toward a suspicious death years earlier and a case the local constables can't solve—without Flavia's help. But in getting so close to who's secretly pulling the strings of this dance of death, has our precocious heroine finally gotten in way over her head?
This book was sent to Compass Book Ratings for review by Bantam
The Weed That Strings the Hangman's Bag
by Alan Bradley
Overall Review:
Alan Bradley finds success again in The Weed That Strings the Hangman's Bag, the sequel to The Sweetness at the Bottom of the Pie. A little bit darker than the first novel, this book is equally as brilliant. After solving her first murder case, Flavia de Luce, the precocious eleven-year-old narrator, may have developed a little bit of a morbid preoccupation with death which isn't surprising coming from a girl who believes "there's something about pottering with poisons that clears the mind." No, Flavia isn't the one causing trouble around Bishop's Lacey, but she and her trusty bike, Gladys, ride around town trying to piece together the puzzle surrounding two deaths, one recent and one that had been dismissed years before. We get better acquainted with the members of the de Luce family while also meeting more quirky townies. This is fabulous fiction from beginning to end. Bradley's writing is excellent, and you can't gobble it up fast enough. While I don't feel like this mystery series is comparable to others in the true "mystery genre," it's a fun, engaging, sometimes-twisted and dark page turner that transports you to 1950's small town life and leaves you questioning who-dun-it 'til the end.
Content Analysis:
Explaining the synopsis of this book to my husband evoked the same response as my explanation of The Hunger Games which was, why are you reading such a twisted story? My answer: because it's so good! This book is so engaging, and though the specifics may seem a little dark, the naïve-young-girl-perspective gives is a little humorous.

Without further ado, Hangman's Bag deals with two murders. One victim is a carnie-like puppeteer who's come to town. The relationship between the puppeteer and his girlfriend is abusive, and the puppeteer is also involved with several women around town. The other murder victim is a sweet five-year-old boy from Bishop's Lacey. The mother of the boy has lost her grip on reality, and there is a scene where Flavia stumbles upon her in a séance-like mourning. Both murders are a little descriptive and twisted and very public.
Swear words are sprinkled throughout as well as "bloody" in the British-swearing sense of the word.
Mature Subject Matter:
***
Alcohol / Drug Use:
***
Reviewed By SqueakyCleanReads