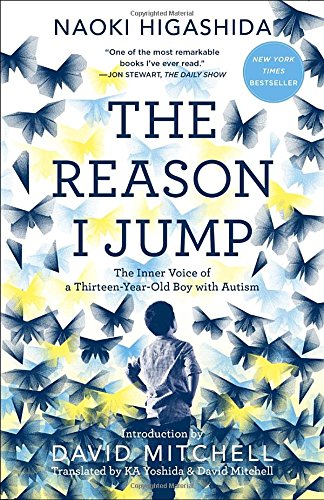 Publisher's Note:
NAMED ONE OF THE BEST BOOKS OF THE YEAR BY
NPR • The Wall Street Journal • Bloomberg Business • Bookish

FINALIST FOR THE BOOKS FOR A BETTER LIFE FIRST BOOK AWARD • NEW YORK TIMESBESTSELLER

You've never read a book like The Reason I Jump. Written by Naoki Higashida, a very smart, very self-aware, and very charming thirteen-year-old boy with autism, it is a one-of-a-kind memoir that demonstrates how an autistic mind thinks, feels, perceives, and responds in ways few of us can imagine. Parents and family members who never thought they could get inside the head of their autistic loved one at last have a way to break through to the curious, subtle, and complex life within.

Using an alphabet grid to painstakingly construct words, sentences, and thoughts that he is unable to speak out loud, Naoki answers even the most delicate questions that people want to know. Questions such as: "Why do people with autism talk so loudly and weirdly?" "Why do you line up your toy cars and blocks?" "Why don't you make eye contact when you're talking?" and "What's the reason you jump?" (Naoki's answer: "When I'm jumping, it's as if my feelings are going upward to the sky.") With disarming honesty and a generous heart, Naoki shares his unique point of view on not only autism but life itself. His insights—into the mystery of words, the wonders of laughter, and the elusiveness of memory—are so startling, so strange, and so powerful that you will never look at the world the same way again.

In his introduction, bestselling novelist David Mitchell writes that Naoki's words allowed him to feel, for the first time, as if his own autistic child was explaining what was happening in his mind. "It is no exaggeration to say that The Reason I Jump allowed me to round a corner in our relationship." This translation was a labor of love by David and his wife, KA Yoshida, so they'd be able to share that feeling with friends, the wider autism community, and beyond. Naoki's book, in its beauty, truthfulness, and simplicity, is a gift to be shared.
The Reason I Jump
by Naoki Higashida
Overall Review:
This New York Times Bestseller was written by a thirteen-year-old, autistic, Japanese boy, Naoki Higashida, and later translated into English by David Mitchell and KA Yoshida. The introduction by Mr. Mitchell really zones in on what makes this book so important: it isn't from the viewpoint of a caretaker, or an autistic adult, or a professional; it is from a child who is living autism in real time.
The book is formatted in a series of questions with answers written by Naoki. The prose isn't the treasure here--it is the insights. I have often wondered what people who have difficulties (or impossibilities) communicating are thinking and feeling, and perhaps this is the closest one can come to experiencing that.
This is not a middle grade or young adult book per se, but my recommendation age of 12+ is based on the fact that the author of the memoir was thriteen and that young readers in particular could benefit from seeing the world through another's eyes. The Reason I Jump is a quick, unique, and worthwhile read.
Content Analysis:
Profanity/Language: 2 mild obscenities.
Violence/Gore: Fictional story that mentions a death from an accident.
Sex/Nudity: None
Mature Subject Matter:
Autism.
Alcohol / Drug Use:
None
Reviewed By Cindy