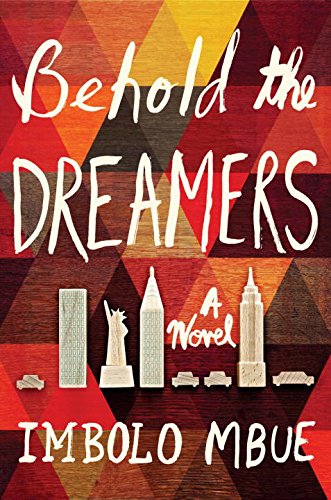 Publisher's Note:
For fans of Americanah and The Lowland comes a debut novel about an immigrant couple striving to get ahead as the Great Recession hits home. With profound empathy, keen insight, and sly wit, Imbolo Mbue has written a compulsively readable story about marriage, class, race, and the trapdoors in the American Dream.

Jende Jonga, a Cameroonian immigrant living in Harlem, has come to the United States to provide a better life for himself, his wife, Neni, and their six-year-old son. In the fall of 2007, Jende can hardly believe his luck when he lands a job as a chauffeur for Clark Edwards, a senior executive at Lehman Brothers. Clark demands punctuality, discretion, and loyalty—and Jende is eager to please. Clark's wife, Cindy, even offers Neni temporary work at their summer home in the Hamptons. With these opportunities, Jende and Neni can at last gain a foothold in America and imagine a brighter future.

However, the world of great power and privilege conceals troubling secrets, and soon Jende and Neni notice cracks in their employers' facades.

Then the financial world is rocked by the collapse of Lehman Brothers. Desperate to keep Jende's job, which grows more tenuous by the day, the Jongas try to protect the Edwardses from certain truths, even as their own marriage threatens to fall apart. As all four lives are dramatically upended, Jende and Neni are forced to make an impossible choice.
This book was sent to Compass Book Ratings for review by Random House
Behold the Dreamers: A Novel
by Imbolo Mbue
Overall Review:
The cover of this book attracted me more than the storyline, but after cracking Behold the Dreamers open for the first time, I quickly fell in love with the characters, too. I can honestly say I was not expecting to be as blown away by this book as I was. It holds much wisdom and clarity within its pages, and I hope many people read this book and learn from it.
The protagonist, Jende Jonga, is an immigrant who made his way to America from Cameroon, in hopes of making a great life for his family in America. I quickly became engrossed in the story of Jende and his family, and the lives they lead in New York. It is quite clear that Jende doesn't fully understand America, and how living here works, but he is willing to learn. Jende hasn't always had an easy life, but it is implied that certain situations in his homeland made his move to America seem like his only choice.
I appreciated how the author gave credit to Americans for being generous and kind, but also showed how as in any culture, misunderstandings arise and that there may be consequences. I never gave much thought to what it would be like to immigrate to a new country, and Behold the Dreamers does a nice job of fictionalizing the experience for a reader. I think all readers could benefit from the story this book holds.
Review of an Advance Reader's Copy
Content Analysis:
Profanity/Language: 2 religious exclamations; 3 mild obscenities; 5 scatological words.
Violence/Gore: A child is mentioned to have died from a sickness; adults fight verbally; blackmail is threatened; a woman glares threateningly at another woman; a woman is mentioned to have OD'd on prescription drugs and then dying; an angry man slaps his wife several times in one brief scene.
Sex/Nudity: Sex between a couple is implied; a man is mentioned to have sex with a woman before marriage and to have "impregnated her"; an affair is implied; prostitution is referred to.
Mature Subject Matter:
Intermarital affairs, racial tensions, child discipline, divorce, sexual identity, domestic violence, immigration.
Alcohol / Drug Use:
Adults drink; a character is mentioned to have taken drugs; adults smoke.
Reviewed By Lydia