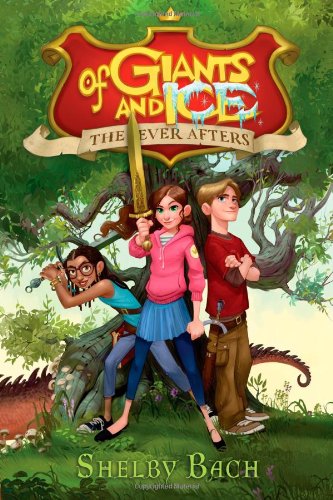 Publisher's Note:
When Rory realizes fairy tales are the real deal at Ever After School, she embarks on a classic quest to fulfill her destiny.

Rory Landon has spent her whole life being known as the daughter of a famous movie star mom and director dad. So when she begins a new after-school program and no one knows who her family is, Rory realizes something is different. And after she ends up fighting a fire-breathing dragon on her first day, she realizes the situation is more unusual than she could have imagined. It turns out the only fame that matters at Ever After School is the kind of fame earned from stories Rory thought were fictional. But as Rory soon learns, fairy tales are very real—and she is destined to star in one of her own.
This first installment of The Ever Afters series reimagines classic fairy tale characters in a modern context, merging familiar fantasy with the everyday realities of middle-grade existence.
Of Giants and Ice: The Ever Afters
by Shelby Bach
Overall Review:
Of Giants and Ice, the first novel in The Ever After Series (there are four books in total) by Shelby Bach, is the beginning of an exciting adventure series that leads characters into their own adventurous tale. However, 'characters' aren't thrown to the wolves so to say; they are trained at the Ever After School. This is where Rory ends up one day after school, thanks to an absentee dad and a busy mom, both who happen to also be famous. That's the first thing that Rory notices about her after school arrangement--no one knows who her parents are and she gets to be just Rory. Deciding to give this odd after school program a chance is Rory's first step into finding her own 'happily ever after', but it comes with a lot of exploits and peril.
More than a mash-up of fairy tales, Of Giants and Ice is a creative story about a frustrated 12-year-old learning who she is and how to make and keep friends. Having had to constantly move around because of her mom's career, Rory has never had to be there for someone or have others rely on her. This all changes at Ever After School, and Rory sets out determined to not let anyone down. Along the way she learns to face her fears and accept the help of others. Will this help her face her own 'tale' and find her own 'happily ever after' despite her parents? You will just have to read Of Giants and Ice to find out.
Content Analysis:
Profanity/Language: 2 religious exclamations.
Violence/Gore: Children attacked by fantasy creature and one of them chops off its head; mention of characters having dumped a trashcan over school bully's head which then led to a fist fight, no details given; secondhand account of giant plucking out its own eye in order for magic to happen; secondhand account of person having 'cut down' 67 people; character trips another by sticking out foot in aisle; characters return from a quest with broken leg, severed fingers, and puncture wound to shoulder, no details given; opponent kicks character in the chest as they are dueling; character shoves another person; secondhand account of giants eating people (2 times); mention of evil character torturing people to the death; characters fight with evil guy which includes description of sword fight and kicking and shoving; person is turned to stone; secondhand account of animals that eat people; secondhand account of people having been murdered, no details; mention of having attempted to execute an evil character at least 18 times and not succeeding; characters attacked by a little man with an axe; characters have to fight off animals; character knocks another out by throwing a book at them; character gets bitten by a fantasy creature.
Sex/Nudity: None
Mature Subject Matter:
Divorce.
Alcohol / Drug Use:
Character sees adult drinking wine; character gets tipsy on honey mead.
Reviewed By Sally