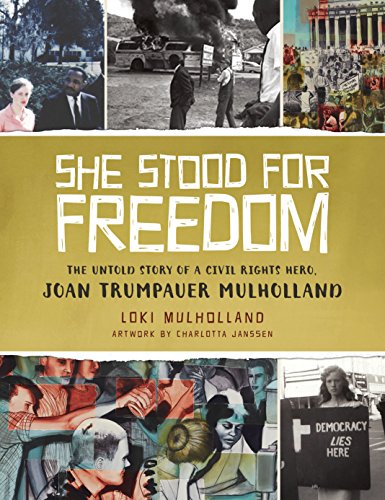 Publisher's Note:
Joan Trumpauer Mulholland was a white teenager in the South during Segregation who put herself on the front lines of the Civil Rights struggle. This is the first biography about her experiences, published simultaneously in picture book and middle grade editions, detailing the many events she participated in. She attended demonstrations and sit-ins and was one of the Freedom Riders in 1961 who was arrested and put on death row for months at the notorious Parchman Penitentiary. She was the first white person to join in the 1963 Woolworth s lunch counter sit-ins in Jackson, Mississippi, and that same year participated in the March on Washington with Dr. Martin Luther King and the Selma to Montgomery march in 1965 which contributed to the passage of the landmark Voting Rights Act that year. Her willingness to stand up for justice has been an inspiration, "Anyone can make a difference. It doesn't matter how old or young you are. Find a problem, get some friends together, and go fix it. Remember, you don't have to change the world . . . just change your world."
The edition for readers ages 8 and older uses collage art and blends photographs from the period with the text, and features sidebar commentary from Joan, reflecting on those years. It also includes riveting primary source documents from Joan's personal archives like the letter sent to Joan's mother during Joan's arrest at Parchman Penitentiary. On official letterhead of the state, the warden exhibits the deep racism of the time by admonishing her mother for permitting a "white minor girl to gang up with a bunch of Negro bucks and white hoodlums." This edition of She Stood for Freedom unforgettably and insightfully conveys the turmoil and tone of the Civil Rights era.
This book was sent to Compass Book Ratings for review by Shadow Mountain
She Stood For Freedom
by Loki Mulholland
Overall Review:
She Stood for Freedom: The Untold Story of the Civil Rights Hero, Joan Trumpauer Mulholland is a biography of sorts that gives readers little glimpses or vignettes into what it was like to be a Freedom Rider and fighter for the Civil Rights movement. Told by Joan's son and author, Loki Mulholland, these little glimpses wet the reader's appetite to learn more about those who stood on the front lines of the fight for Civil Rights. She Stood for Freedom: The Untold Story of the Civil Rights Hero, Joan Trumpauer Mulholland is an interesting, but brief introduction to the brave actions of one individual who decided to make a difference with her life. Hopefully, this book will influence readers, young and old, to do the same. As a very visual book, with something visual as well as written out on every page, especially noteworthy are copies of original pictures and documents found throughout the book that support or highlight the facts given on that page. Seeing pictures of Joan throughout her story made the history come to life. This book is not a comprehensive history, but rather just one viewpoint that touches on a lot of the important events of the Civil Rights movement and would make either a great introduction to that time period or would be a great book for someone wanting to find a more personal voice for the history.
Review of an Advanced Reader's Copy
Content Analysis:
Profanity/Language: None
Violence/Gore: Person pulled off seat; mention of people having lives threatened and threats of homes being burnt; mention of bus being burnt; mention of tires being slashed; description of people being chased by others with tire irons; description of people at a sit-in having had sugar and mustard dumped on their heads and being pulled off their seats; account of a bomb explosion that killed 4 girls; character mentions being shot at and chased by dogs; character mentions that friends were killed.
Sex/Nudity: None
Mature Subject Matter:
Racism.
Alcohol / Drug Use:
None
Reviewed By Sally