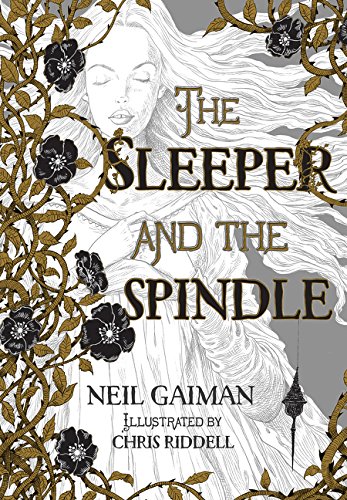 Publisher's Note:
New York Times bestselling and Newbery and Carnegie Medal-winning author Neil Gaiman and Kate Greenaway-winning illustrator Chris Riddell have created a thrillingly reimagined fairy tale, "told in a way only Gaiman can" and featuring "stunning metallic artwork" (GeekInsider.com).
The result is a beautiful and coveted edition of The Sleeper and the Spindle that the Guardian calls "a refreshing, much-needed twist on a classic story."
In this captivating and darkly funny tale, Neil Gaiman and Chris Riddell have twisted together the familiar and the new as well as the beautiful and the wicked to tell a brilliant version of Snow White's (sort of) and Sleeping Beauty's (almost) stories.
This story was originally published (without illustrations) in Rags & Bones (Little, Brown, 2013). This is the first time it is being published as an illustrated, stand-alone edition, and the book is a beautiful work of art.
The Sleeper and the Spindle
by Neil Gaiman
Overall Review:
Originally a short story, The Sleeper and the Spindle is technically a picture book. However, with its eerie atmosphere and dark overtones it is not a picture book for young readers, but rather a picture book for older ones. It weaves together two fairy tales with typical Neil Gaiman style, namely, give it a twist and then another twist for good measure. With stellar style, it is a good old-fashioned, unsanitized fairy tale telling rather than a watered down adaptation. The audiobook version is performed by a full cast, complete with sound effects and it is positively brilliant. Short, but sweet and definitely worth a listen, but perhaps in the daylight would be best.
Review of the audiobook version
Content Analysis:
Profanity/Language: 1 anatomical term.
Violence/Gore: Report of princes dying on thorns; report of eating/killing animals for food; frightening scene; frightening scene where characters are pursued; hand is hacked off with a sword; ghost images are seen; verbal threats; character hit on head with a stick; scenes of peril; character is stabbed and killed, mention of blood.
Sex/Nudity: Reference to cleavage; female kisses another female on the lips to break a spell.
Mature Subject Matter:
Death.
Alcohol / Drug Use:
None
Reviewed By Cindy