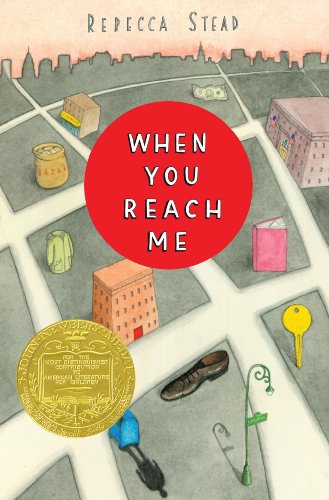 Publisher's Note:
This remarkable novel holds a fantastic puzzle at its heart. By sixth grade, Miranda and her best friend, Sal, know how to navigate their New York City neighborhood. They know where it's safe to go, and they know who to avoid. Like the crazy guy on the corner.

But things start to unravel. Sal gets punched by a kid on the street for what seems like no reason, and he shuts Miranda out of his life. The apartment key that Miranda's mom keeps hidden for emergencies is stolen. And then a mysterious note arrives, scrawled on a tiny slip of paper. The notes keep coming, and Miranda slowly realizes that whoever is leaving them knows things no one should know. Each message brings her closer to believing that only she can prevent a tragic death. Until the final note makes her think she's too late.
This book was sent to Compass Book Ratings for review by Yearling (A Random House Children's Imprint)
When You Reach Me
by Rebecca Stead
Overall Review:
Children have long had many excellent choices in the fantasy genre, but few accessible, outstanding science fiction options so it is refreshing to see a first-rate science fiction contribution from Rebecca Stead in her second novel, When You Reach Me. Stead's debut novel, First Light, was solid writing, but in When You Reach Me she finds her voice. The story is related in first person by Miranda, fluctuating between a straight-up narrative and musings directed to a mysterious person who has been leaving notes and clues for Miranda. Miranda's genuineness as a character and an authentic world wrap the reader in the narrative. The brilliance of the book is that all the seemingly trivial and mundane details included in the story (and dismissed by the reader) are essential to the conclusion and explanation of the events. When You Reach Me is a clever puzzle, skillfully resolved, and a deserved Newberry Award Winner.
Content Analysis:
Violence included a character punching and hitting another character. A character breaks some ribs and an arm in an accident. A character dies in an accident with a truck.

Four mild instances of profanity were noted.
Mature Subject Matter:
***
Alcohol / Drug Use:
***
Reviewed By Cindy