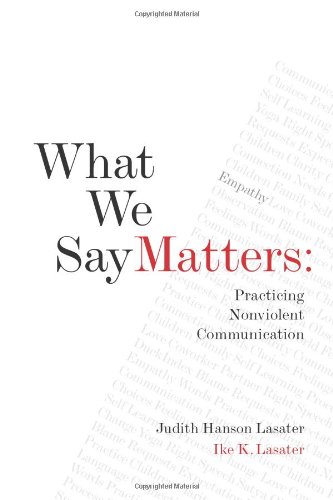 Publisher's Note:
For yoga teacher Judith Hanson Lasater and her husband, mediator Ike K. Lasater, language is a spiritual practice based on giving and receiving with compassion. In What We Say Matters, they offer new and nurturing ways of communicating. Long-term students of yoga and Buddhism, the authors here blend the yoga principle of satya (truth) and the Buddhist precept of right speech with Marshall Rosenberg's groundbreaking techniques of Nonviolent Communication (NVC) in a fresh formula for promoting peace at home, at work, and in the world. The authors offer practical exercises to help readers in any field learn to diffuse anger; make requests rather than demands or assign blame; understand the difference between feelings and needs; recognize how they strategize to get needs met; choose connection over conflict; and extend empathy to themselves and others.
What We Say Matters: Practicing Nonviolent Communication
by Judith Hanson Lasater, Ike Lasater
Overall Review:
Husband and wife, Ike and Judith Lancaster, incite deeper meaning into the familiar saying: "Think before you speak", with their composition, What We Say Matters: Practicing Nonviolent Communication.
Arranged into nine chapters, Judith and Ike introduce the concept of Nonviolent Communication (sometimes referred to as NVC), and then expound upon the principles and how to use them within our different interactions with family, friends, coworkers, and even strangers. At the completion of every chapter is a concise overview with tasks to help you implement the teachings.
Students of Marshall Rosenburg, the creator of Nonviolent Communication, both Ike and Judith narrate their application of the module, their successes, and at times their laughable conundrums.
Initially, the reading may come across as artificial or too utopian, and the language technical, but as you delve further into the book you may find that as the authors share their personal feelings and experiences, the mind becomes accustomed to the language and the prior perceived rigidness will take a back seat.
Observers of the yoga sutras and Buddhism, the authors use the functional practice of NVC and combine it with the spiritual methods of "right speech" or satya, meaning truth. Although the reader does not need to be a practitioner of yoga or Buddhism, some familiarity with the practices would be beneficial to help the reader be more open-minded to the concepts taught.
The core concept of the book is to create introspection within yourself, so even if you find that "right speech" isn't right for you, or find bits and pieces to implement in your own life, it is all about the underlying intention – being connected with ourselves first and then with others.
Content Analysis:
Profanity/Language: None
Violence/Gore: A few mentions of war-torn areas, refugees, and the happenings on 9/11; brief non-detailed mention of abuse.
Sex/Nudity: None (Note: The word seduce/seduction is used, but not as a sexual term.)
Mature Subject Matter:
Verbal abuse.
Alcohol / Drug Use:
Brief mention of alcoholism.
Reviewed By MaryLou