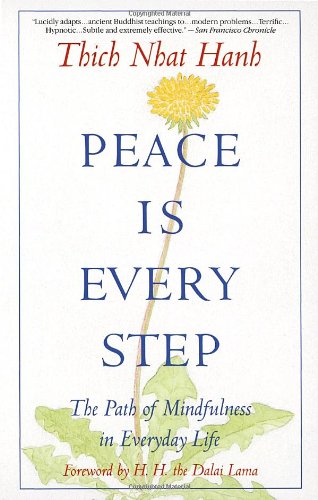 Publisher's Note:
In the rush of modern life, we tend to lose touch with the peace that is available in each moment. World-renowned Zen master, spiritual leader, and author Thich Nhat Hanh shows us how to make positive use of the very situations that usually pressure and antagonize us. For him a ringing telephone can be a signal to call us back to our true selves. Dirty dishes, red lights, and traffic jams are spiritual friends on the path to "mindfulness"—the process of keeping our consciousness alive to our present experience and reality. The most profound satisfactions, the deepest feelings of joy and completeness lie as close at hand as our next aware breath and the smile we can form right now.

Lucidly and beautifully written, Peace Is Every Step contains commentaries and meditations, personal anecdotes and stories from Nhat Hanh's experiences as a peace activist, teacher, and community leader. It begins where the reader already is—in the kitchen, office, driving a car, walking a part—and shows how deep meditative presence is available now. Nhat Hanh provides exercises to increase our awareness of our own body and mind through conscious breathing, which can bring immediate joy and peace. Nhat Hanh also shows how to be aware of relationships with others and of the world around us, its beauty and also its pollution and injustices. the deceptively simple practices of Peace Is Every Stepencourage the reader to work for peace in the world as he or she continues to work on sustaining inner peace by turning the "mindless" into the mindFUL.
Peace Is Every Step: The Path of Mindfulness in Everyday Life
by Thich Nhat Hanh
Overall Review:
Peace activist and Buddhist monk, Thich Nhat Hanh, displays insight, courage, and even charisma in Peace is Every Step: The Path of Mindfulness in Everyday Life. The book was assembled by a small group of Thich Nhat Hanh's friends who blended his published and unpublished writings, lectures, and informal conversations into three portions: awareness in mindfulness, feelings and mindfulness, and practicing and maintaining mindfulness in everyday living.
Using his own experiences and simple analogies that read as parables, this book creates its own serenity within the mind as the reading invites deeper meaning and awareness within the reader. Simple, yet profoundly perceptive, the soothing prose flows freely and plants seeds of realization, that if nurtured with conscience breath will turn into actions of peace.
Readers may feel connected with the monk as his melodic writings invite feelings of friendship.
"This book is an invitation to come back to the present moment and find peace and joy. I offer some of my experiences and a number of techniques that may be of help. But please do not wait until finishing this book to find peace. Peace and happiness are available in every moment. Peace is every step. We shall walk hand in hand. Bon voyage."
You need not be a practicing Buddhist to enjoy or benefit from the text. In fact, you need not associate with any religion at all, just be an individual open to the prospect of learning how to live life in a more harmonious manner – within, with others, and with the Mother we call earth.
Content Analysis:
Profanity/Language: None. Note: The word hell is used a few times to reference a place or state of mind, not used as a profanity.
Violence/Gore: Report of war, villages that had been bombed as a result of war, and false imprisonment; punching a pillow as a form of release; analogy of child kicking another child; author mentions a few times his first hand witness of the atrocities of war such as bombings, starvation, refugees; report of child committing suicide after being raped; report of soldiers committing murder during war, seeing their fellow men die.
Sex/Nudity: Discussion of hugging as a form of comfort; brief discussion of teenage prostitution; report of child rape; brief mention of sex as an expression of love.
Mature Subject Matter:
Effects of war, death, starvation, ecological destruction/damage.
Alcohol / Drug Use:
Mention of prescribed sleep aids; alcoholism.
Reviewed By MaryLou