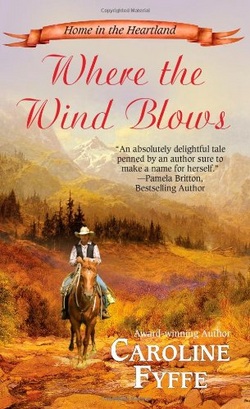 Publisher's Note:
Chase Logan liked being a loner, a drifter, free and clear as a mountain stream. But one look into Jessie Strong's sky-blue eyes and in the span of a heartbeat, he found himself agreeing to be her husband--and a father! Jessie knew it was all pretend. And only temporary. Just until the adoption went through for three-year-old Sarah. But the longer Chase stayed, the less she could imagine a long, lonely Wyoming winter without him. Times may be tough--supplies short and danger just outside the doorstep--but with the strength of the pioneer spirit and the warm glow of love in their hearts, Chase and Jessie are determined to have a true family at last, no matter what.
This book was sent to Compass Book Ratings for review by CreateSpace
Where the Wind Blows
by Caroline Fyffe
Overall Review:
A beautiful, soul-warming story of love and trust, Where the Wind Blows will consume your mind and heart. Caroline Fyffe has crafted characters that are alive and deep, with an impressive gift for dialog and description. A true romance that will resonate with anyone who has faced the anguish of abandonment, only to be rescued by the loving strength of another, Where the Wind Blows is a satisfying read. However, with all of the carefully crafted attention to the thoughts and feelings of her characters, I was a little disappointed at how the characters handled the family crisis at the end, and so quickly made everything alright again. Overall, though, Caroline Fyffe is a talented author, and I will definitely be watching for more of her books.
Content Analysis:
I found this a very mild romance book, compared to the genre as a whole, but there were multiple mild, moderate,and strong instances for almost every content category. There was an attempted rape and attack scene that included ripped clothing, physical harm to the woman, and a fist fight that ultimately leads to the shooting death of the attacker. A mention was made of a girl in another town who was raped and murdered. A character is kidnapped, and the offender is shot and killed.
There were mild profanities throughout the entire story.
There is a moderate scene where a character envisions a woman naked in a bath. There is a strong instance of a love scene where the characters are fully intimate (characters are married), and there is discussion of virginity. There are thoughts throughout the entire story as to desires characters feel and have for one another. This book is recommended for ages 21+ due to mature sexual content and violence. However, if you are a reader who loves romance novels, and are looking for a "cleaner" romance alternative to mainstream romance novels, this would be a better choice.
Mature Subject Matter:
***
Alcohol / Drug Use:
***
Reviewed By SqueakyCleanReads