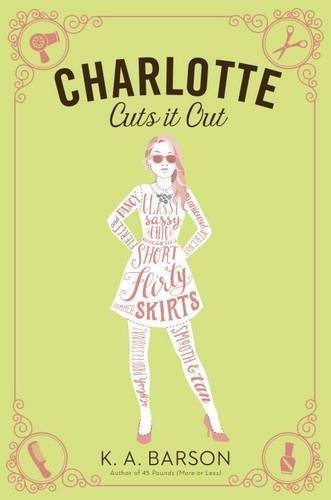 Publisher's Note:
Lydia and I were in eighth grade when we came up with our Grand Plan to go to cosmetology school and get jobs to build our clientele while we earned business degrees. Then we'd open our own salon . . .

Now Charlotte and Lydia are juniors, in a Cosmetology Arts program where they'll get on-the-job training and college credits at the same time. The Grand Plan is right on schedule. Which means it's time for Step Two: Win the Winter Style Showcase, where Cos Arts and Fashion Design teams team up to dazzle the judges with their skills. Charlotte is sure that she and Lydia have it locked up—so sure, in fact, that she makes a life-changing bet with her mother, who wants her to give up cos for college.

And that's when things start going off the rails.

As the clock ticks down to the night of the Showcase, Charlotte has her hands full. Design divas. Models who refuse to be styled. Unexpectedly stiff competition. And then, worst of all, Lydia—her BFF and Partner in Cos—turns out to have a slightly different Grand Plan . .

Like 45 Pounds (More or Less), K.A. Barson's Charlotte Cuts it Out is a funny, relatable story set in the heart of the Midwest, just right for girls who have big dreams of their own.
This book was sent to Compass Book Ratings for review by Viking Books for Young Readers
Charlotte Cuts It Out
by K.A. Barson
Overall Review:
This book ranks in my "pleasant surprises of the summer" genre. Originally, I picked this one up and thought it would be an "okay" read--not one of those books that everyone is raving about, but a good backyard hammock summer read. I was wrong.
Charlotte Cuts It Out is quite good. I was quickly transported back to my high school days. Days when dreams were big, expectations weren't quite realistic, and let's face it, the world revolved around me (or so I thought). Charlotte is no different. She has big dreams with her best friend, Lydia. Dreams that come to find out, not everyone quite shares…including Lydia.
When everything starts going wrong for the winter showcase, Charlotte learns more about herself then she ever thought she would. She learns to be a bit more flexible and a bit less OCD. She learns that she isn't a very good listener and has a tendency to push people in her direction, not theirs. She learns the boy she was crushing on is a pretty big loser, but the boy she never seemed to see is Prince Charming. She learns that dreams can change and still be great.
Barson doesn't disappoint in this poignant tale of a teenage girl and the struggles all of us have faced (or will). A good read for anyone looking to wile away a few hours in the world of fashion and beauty.
Review of an Advance Reader's Copy
Content Analysis:
Profanity/Language: 7 religious exclamations; 23 mild obscenities; 16 derogatory names; 32 scatological words; 31 anatomical terms.
Violence/Gore: Three instances of falls (tripping) with minor injuries (bumps, bruises, sprains)
Sex/Nudity: Teens slow dance; teens kiss; little girl mimics wardrobe change happening off stage and strips on-stage.
Mature Subject Matter:
Mental disorder, bankruptcy.
Alcohol / Drug Use:
Adults drink beer at Thanksgiving gathering.
Reviewed By Beckie