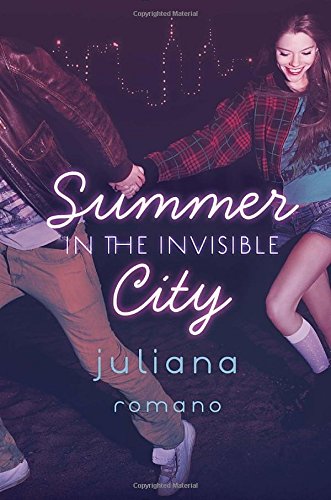 Publisher's Note:
A sparkling coming-of-age story about self-discovery, first love, and the true meaning of family, perfect for fans of Jenny Han and Sarah Dessen

Seventeen-year-old Sadie Bell has this summer all figured out: She's going to befriend the cool girls at her school. She's going to bond with her absentee father, a famous artist, and impress him with her photography skills. And she's finally going to get over Noah, the swoony older guy who was her very first mistake.

Sadie wasn't counting on meeting Sam, a funny and free-thinking boy who makes her question all of her goals. But even after a summer of talking, touching, and sharing secrets, Sam says he just wants to be friends. And when those Sadie cares about most hurt her, Sam's friendship may not be enough. Sadie can see the world through her camera, but can she see the people who have loved and supported her all along?

Set against a glamorous New York City backdrop, this coming-of-age romance is a gorgeous summer read—one whose characters will stay with you long into the fall.
This book was sent to Compass Book Ratings for review by Dial Books for Young Readers
Summer in the Invisible City
by Juliana Romano
Overall Review:
Summer in the Invisible City is the coming-of-age tale of Sadie Bell. Sadie is a seventeen-year-old New Yorker. She is a little obsessed regarding her absentee father, in love with photography, and struggling to get over a boy named Noah.
This book tackles some tough subjects. Sadie's father has been absent all her life, being an artist living in LA while she and her mom live in New York. During the summer of the book, he is in town for an art show. Sadie struggles with the awkward relationship she has with him and with how to explain to others their relationship when they learn she is the daughter of a famous artist. When he dashes her dreams of not being the father she created in her mind and her art dreams (all in one fell swoop), she has to reexamine how she feels about him being in her life and how important his opinion of her is. It is the age old concept of a girl trying to please daddy.
The second major theme of this book is Sadie's reliving and subsequent processing of losing her virginity to someone who then abandoned her as well. When a one-night stand doesn't end up in the relationship she has built in her head, Sadie has to re-evaluate. Over the summer another boy enters the picture that Sadie is truly comfortable around and she must decide who she will continue to cultivate a relationship with.
"That's the thing about falling in love: it's not about illusions, it's not about pretending everything is perfect. It's about seeing things for what they really are and wanting them anyway." A quote from the book that sums up this summer read perfectly.
Review of an Advance Reader's Copy
Content Analysis:
Profanity/Language: 9 religious exclamations; 1 mild obscenity; 1 religious profanity; 1 derogatory name; 7 scatological words; 4 anatomical terms; 12 f-word derivatives.
Violence/Gore: None
Sex/Nudity: References to having/having had sex (6 times); teens hug (twice); report of teen reaching up another teen's skirt; teen takes off his shirt; retelling story of first kiss; two-page scene where graphic foreplay (abundant touching, kissing, undressing, etc.) between teenagers is described; adults kiss; teen holds another around the waist; teens hold hands (5 times); teens kiss (4 times); teen places hand on another's shoulder; one-page scene of teens heavily making out; teen grabs another teen's knee under a table.
Mature Subject Matter:
Marriage infidelity, parental abandonment, teenage sex, illegal drug use.
Alcohol / Drug Use:
Teens drink at party (4 times); teens smoke; adults smoke; teens smoke marijuana.
Reviewed By Beckie