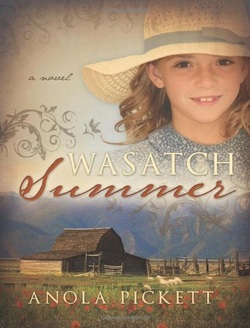 Publisher's Note:
While eleven-year-old Hannah Turner cares for the family's sheep alone in the mountains, she faces the most unlikely dangers - from snakes to Indians to the Bear Lake monster. This delightful coming-of-age novel will enthrall young and old alike as Hannah learns to overcome fears and trust in herself to make the right decisions.
This book was sent to Compass Book Ratings for review by Cedar Fort
Wasatch Summer
by Anola Pickett
Overall Review:
What would life be like as an 11 year-old in the late 1800's? In Wasatch Summer, we are given a glimpse of a somewhat typical summer for a young LDS person in the Cache Valley. The Turner's have two major incomes—their small harvest, and their sheep. With the passing of her father and no word from her older brother, young Hannah Turner is given the task of taking care of the sheep. There's a catch, though. To keep the crops safe from the roaming grazes of the sheep, and to make sure the sheep have the best grazing grounds possible, Hannah must take them up the mountains—to stay—for the whole summer—alone! She must cook all her own meals, find things to do to while away the time, and face down all manner of wild creatures (including bears and coyotes)! She makes friends with Indians and meets with other lonely shepherds. Hannah learns to care for herself and her sheep, to look for beauty everywhere, to make friends with unlikely people, and to finish the tasks that have been set before her. I enjoyed Hannah's 'voice'—what a cute girl! It was amazing to me to see how fast these children had to grow up by taking on responsibilities that even adults would balk at—I can't imagine sending an 11 year-old up for a whole summer alone in the mountains! Wasatch Summer is based on a true story. It is a wonderful look into life long ago and an inspiring story of courage for all ages.
Content Analysis:
This is a very clean book. No profanity; no sex; the violence is all attributed to a bear in the valley who kills a person, and also a coyote who kills some animals. I considered the theme to be mild only because the entire story is about a girl surviving on her own and she has to endure some frightening experiences. This is a lovely story aimed mostly toward a young LDS audience, but could be enjoyed by anyone.
Mature Subject Matter:
***
Alcohol / Drug Use:
***
Reviewed By Emily