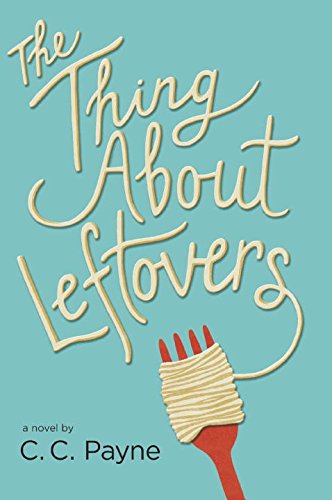 Publisher's Note:
C. C. Payne intertwines heartache with humor and hope in a novel about navigating divorce and blended families, following your passion, and celebrating who you are.

Fizzy is a good Southern girl who just wants to be perfect. And win the Southern Living cook-off. The being perfect part is hard though, since her parents' divorced and everything in her life has changed. Wary of her too-perfect stepmom and her mom's neat-freak, dismissive boyfriend, she's often angry or upset and feels like a guest in both homes. She tells herself to face facts: She's a "leftover" kid from a marriage that her parents want to forget. But she has to keep all of that to herself, because a good Southern girl never yells, or throws fits, or says anything that might hurt other people's feelings—instead she throws her shoulders back, says yes ma'am, and tries to do better. So Fizzy tries her best, but it's hard to stay quiet when her family keeps getting more complicated. Fortunately, the Southern Living cook-off gives her a welcome distraction, as do her new friends Miyoko and Zach, who have parent issues of their own.

With the poignancy and humor of Joan Bauer and Lynda Mullaly Hunt, this poignant story reminds readers that they have a right to a voice, that it is okay to say how you feel, and that some leftovers are absolutely delicious.
This book was sent to Compass Book Ratings for review by Nancy Paulsen Books
The Thing About Leftovers
by C. C. Payne
Overall Review:
There are precious few books in the world that feel blindingly, achingly, beautifully real. This is one of them. The Thing About Leftovers by C.C. Payne details the experiences of young Fizzy Russo in the aftermath of her parents' divorce and remarriage. Payne's depiction of Fizzy and her joys, sadness, questions and confusion as she adapts to the many changes surrounding her is breathtakingly authentic. Fizzy's quest to find her place in her new families, new school--new life--pulls at the heartstrings for this spunky, smart, but smarting, girl who so painfully describes herself as "leftovers." Her parents are also sympathetic characters, desperately trying their best in a difficult and complex situation. All of the characters are sincere yet flawed in a way that is just perfectly human, and one can't help but identify with each and every one of them. Most of all, Payne so accurately and sincerely depicts the thoughts and questions of a young middle-school girl navigating these unfamiliar, turbulent waters that this book should be read by every young person (and any adult trying to help) going through similar struggles in divorce and blending families. Healing and hope can be found as Fizzy becomes the voice of so many children who are unable to express what they are feeling and thinking in a situation where they are so thoroughly affected, but have such little say.
Content Analysis:
Profanity/Language: None
Violence/Gore: None
Sex/Nudity: Two characters kiss.
Mature Subject Matter:
Divorce.
Alcohol / Drug Use:
None
Reviewed By Kristen